Ramaphosa pushes ICT infrastructure investment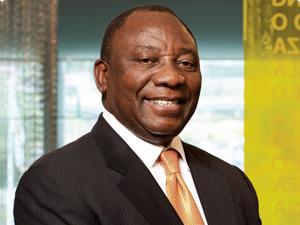 Positive returns on investment are almost guaranteed in the infrastructure and ICT sectors in SA and the rest of the continent, says Cyril Ramaphosa.
The deputy president made the comments while speaking at the 26th World Economic Forum for Africa in Kigali, Rwanda. The forum was held under the theme "Connecting Africa's resources through digital transformation".
"Investment in infrastructure has stimulated economic activity; therefore there are returns to be made for investors in infrastructure in SA and Africa," Ramaphosa told a session on infrastructure development.
He said infrastructure has been a key economic driver in SA and the region, and in SA, the coordination of infrastructure development through the Presidential Infrastructure Coordinating Commission had "paid great dividends".
"Infrastructure is better done when approached at regional level, because our countries are inter-linked through the movement of people and trade."
A South African delegation, led by Ramaphosa and comprising government and business leaders, attended the three-day forum last week. The event focused on long-term investing, infrastructure and development; food security and agriculture; and the future of the Internet.
Ramaphosa also encouraged investment in connectivity through technology and digital solutions, saying this should be a priority for African economies.
He added that SA had found innovative ways of partnering with the private sector, especially in energy, and this had opened new opportunities for private sector investment.
Ramaphosa and his delegation spent the three-day forum reassuring investors that SA is open for business and is a preferred investment destination.