Eight proven steps to successful Agile leadership
Agile leaders allow themselves the discomfort of being vulnerable and transparent, earning the respect of followers by not leading from a distance.
Agile accelerates time to market, and certainly frequency to market, which enhances strategic flexibility and improves customer satisfaction. Together these benefits reduce financial risk and provide a faster return on investment – both key organisational drivers when the economy is down and competition is strong.
But do you, as a leader in your business, team or start-up, know how to properly support and foster the Agile philosophy in the workplace?
Agile leadership is more about who we are than what we do. Our being is more important than our doing, and what we do flows from who we are. Agile leaders realise that effective leadership is a joint venture between them and the empowering presence of the team. To avoid leading as a single person, they regularly make the fundamental choice to be led by the team.
Agile leaders constantly confront the gaps between their espoused values and their actual behaviours, and invite the scrutiny of others. Their motives are pure, they nurture integrity and are above reproach, and as a result are able to lead with the moral authority that transcends position-based power.
Agile leaders allow themselves the discomfort of being vulnerable and transparent. They earn the respect and trust of their followers by not leading from a distance, and instead are always positioned among those they lead, unafraid to show compassion and emotion for their followers. They use referent power even when their formal status provides reward and coercive power bases. They are aware of the authority they have, but intentionally use it to build others up, not tear them down. Thus, their followers are committed, instead of merely compliant.
In this context I've distilled eight key factors to help legacy leaders take the next and important step towards becoming Agile leaders, not only at work but also in life.
In a world of technology, looking after staff has never been this important.
1. Trust. Trusting your teams is the foundation of successful Agile leadership. Implementing and embedding Agile practices is really important (this is where professional Agile coaching and training is useful) but building mutual trust and respect is critical. Traditional management hierarchies and techniques are no longer valued in many organisations. Instead, leaders must empower individuals, encourage collaboration, and serve their teams. For some this is a complete shift from what they know and how they have always acted. For others, however, it's an extension of their natural leadership style, and having a supportive framework will help them, and their teams, become even more engaged and productive.
2. Build relationships. Legacy leadership is what we're aiming for – an intentional influence in the context of a relationship. In a world of technology, looking after staff has never been this important. What we are looking for in a leader, especially in an Agile environment, is the intention to build and transform the team for the better. For example, do you know what motivates each of your team members? Do you know what their individual strength are? I highly recommend the Strengths Discovery course, based on the international Gallup Strengths Finder assessment; discovering one another's strengths is not only a great way to get to know the team better, but also very useful in optimising the team.
3. Be flexible. Flexibility is key in today's dynamic marketplace. It's imperative that leaders quickly adapt to changing market conditions, competitor activity, and most importantly, customer needs. It is only though welcoming and encouraging change that you remain relevant in this environment of constant disruption and transformation. As the saying goes: change is the only constant, so keep yourself flexible by not emotionally connecting yourself to an idea or a plan.
4. Discard management. Leadership is in and management is out. If you lead by example, your team will follow. To foster a self-organising team, give them options and guidance, but get them to make core decisions – even strategic decisions such as who to bring into the team, and who to move out. Support them in their decisions as far as possible while remaining true to your goals, objectives and challenges.
5. Celebrate your successes. Create a culture of celebrating every small success. With the emphasis on collaborations, celebrating successes creates a team camaraderie where we fail and succeed as one.
6. Participate. Your participation and style can make a team succeed or fail, so be aware of your influence within the team. I've seen too many managers' lack of participation negatively impacting on the team and team morale, and team members become despondent. Disengaged team members are a big cost to an organisation and result in knee-jerk demand for traditional managers, which in turn kills innovation and creativity. You want to instead create a seamless flow, making use of the Agile frameworks like Scrum or Kanban, and then simply support the team without dictating direction. Allow the team to explore while the flow 'manages' and creates the efficiencies required.
7. Budget. Start a project with a short assessment in order to estimate the initial project and team cost (if it is a new product) or the running cost in the case of an advanced product. Once that is done, decide on a budget that would make business sense and feel free to stop after any given sprint when the product owner and team are no longer delivering value to the customer. Budgeting an Agile project is vastly different from traditional projects. Calculate a running cost (per sprint or team flow) and keep the scope variable to ensure responsiveness to the customer, product owner and market while new information is discovered during the process. Driving value (and the MVP) becomes the focus, not the end date (since Agile teams regularly deliver value).
8. Understand the importance of product ownership. With the biggest reasons for failure still tied to the product owner role either not being clearly defined or available to the teams, leaders need to give this practical focus. If there are key personnel dependencies, find creative ways to work around them. For example, establish a product owner committee and use ground rules to satisfy the team requirements. If the team needs a decision to be taken immediately, agree that anyone in the product owner committee can make the decision on behalf of the group. If the decision was not ideal, discuss it in the next product owner committee meeting or retrospective session. Always ensure product owners are involved in the team's activities and attending (if not initiating) all demo review meetings.
Agile leaders are an eager helper to others. They are authentic, sincere and genuinely concerned about the well-being of others. They demonstrate an active commitment to the development of their team that is customised to the unique needs of each individual.
As these followers are themselves transformed, they become examples for others and the legacy process is perpetuated, resulting in more leaders who make a difference now – and for generations to come.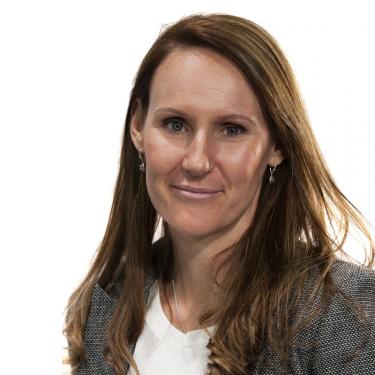 Head, DVT's business enablement and Agile transformation practice.

Melani French heads up DVT's business enablement and Agile transformation practice. She is responsible for the delivery of consulting and training services to clients in the Agile, program management, project management and business analysis space. Having joined DVT as an Agile leader in 2011, French's strong technical, delivery and leadership background enables her to assist many organisations to optimally deliver solutions. Her passion is leadership and Agile delivery since these are essential for companies to thrive in a competitive market.