Operators deny VOIP throttling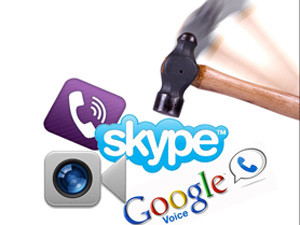 SA's operators are not deliberately making life difficult for customers who use voice streaming services - or mobile voice over IP (VOIP) applications - on their cellphones.
This is according to Vodacom and Cell C, in response to numerous complaints about the quality and cost of using mobile VOIP, and claims that operators have been curbing users' experience to force them to use the traditional voice services - enabling operators to reap more profit.
While MTN and Telkom's mobile arm, 8ta, have failed to respond to queries after repeated requests for comment, the other two operators echo each other's denial of the assertion that they calculatingly discourage their customers from making use of VOIP apps such as Skype, Google Voice, Viber and FaceTime.
"Cell C does not throttle or charge premium rates for applications using data, such as Skype," says SA's third mobile operator. The company says while VOIP applications do eat into voice revenues, they also add to data revenues. "The only reason networks throttle these applications is to manage congestion."
Richard Boorman, executive head of corporate communications at Vodacom, says there are technical and quality challenges linked to VOIP, and as such it is not a straightforward question of substitution of voice for VOIP.
Boorman concedes that "active traffic management" is standard practice across the industry, with priority typically going to applications that are less demanding on network resources, but says "the purpose of this is to improve customers' overall experience".
According to World Wide Worx MD Arthur Goldstuck, Skype outlines the data intensity its platform uses as follows:
* Skype-to-Skype calls use around 3MB for one minute of calling;
* Skype calls to mobile numbers or landlines use around 1MB for one minute of calling;
* Video calls between two mobile devices use about 500Kbps; and
* Video calls between a mobile phone and a computer use about 600Kbps.