ICT policy needs fresh approach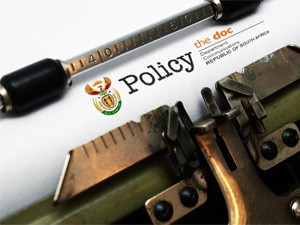 If SA is to facelift and formulate an effective and forward-looking ICT policy that ensures economic growth, role-players are going to have to break out of the straitjacket thinking of 15 years ago, when policy was last reviewed.
This is according to Adrian Schofield, industry stalwart and manager at the Applied Research Unit Joburg Centre for Software Engineering, and comes in response to the Department of Communications' (DOC's) launch of the second round of public consultations on the long overdue ICT policy review.
Speaking at the consultative conference on the National Integrated ICT Policy green paper at Kempton Park yesterday, communications minister Yunus Carrim conceded the green paper - a preliminary report of government proposals aimed at sparking discussion - was long overdue. That said, Carrim continued: "It is here now, so let's get cracking."
Introducing the review process, the DOC noted there have been three white papers and one green paper introduced in ICT since the democratisation of SA, but that it has been more than 15 years since policy reviews took place. "In the meantime, markets have changed as a result of the entry of new players, technological developments and new thinking in how services can be delivered and used."
The latest green paper is part of a review process that will look at amending existing policy and adapting it to take into account the changed - and constantly, rapidly changing - ICT landscape.
"Technology waits for no one," said Carrim. He said he had to light a fire under the department by setting stringent deadlines, because the paper had to be produced quickly and "[while] this may not be the best green paper in the world, the best will come out of it".
Carrim said the ICT policy review process - which includes roadshows and is open to written submissions until 24 March - "cannot be a talk shop. It must lead to something."
Pigeon-holing policy
But Schofield, who attended the green paper discussion kick-off yesterday, says role-players face the immediate challenge of breaking out of the box that has for too long kept ICT policy stuck in the mud.
He refers to yesterday's breakaway commissions, which were divided into separate committees categorised under broadcasting, postal, infrastructure and investment, telecommunications and e-services, and cyber security.
"This division automatically channels discussions into a narrow band, where we should now be thinking differently. There was a lot of mention made of convergence in ICT, but you can't think out of the box if you lock yourself into it upfront. My view - and the view of others involved - is that we need to look at things from a different perspective."
A three-layered approach should be taken when discussing ICT policy, suggests Schofield. "[Firstly] it is often regarded that the responsibility of the DOC is to ensure infrastructure is there - never mind what is carried on that infrastructure. We need to think about how people access that infrastructure affordably, and without having to hike 10km to get to an access point. We need to include wireless and fibre technology to ensure reliable broadband is available for as many as possible."
After the infrastructure layer, comes the services layer, says Schofield. "What are we making available on the infrastructure? We need a combination of voice, data, video and e-services - and that all becomes possible once the infrastructure is in place."
The third layer, he says, is the device layer. "[We need to consider] how we connect as individuals and enterprises.
"We need to see issues in those layers and get away from the old-fashioned thinking of how we connect and consume information in terms of the post office and SABC."
Schofield says, once these layers are considered and the frame of thinking is on the right track, role-players can look at licensing and the provision of infrastructure.
In the mire
Marian Shinn, shadow minister of communications for the Democratic Alliance, says the current policy process promises to be a "long, drawn-out process" ? considering the sluggish movement, lack of vision and dysfunctional DOC that SA's ICT sector has seen up to now.
"There was the framing paper for comment. Now this paper, with a follow-up white paper and then a green paper. And it took almost a year to get the [ICT policy review] panel appointed and a framing paper out. At this rate, it will be a five-year process to get any meaningful policy changes."
The current paper, says Shinn, is an all-encompassing view of the status quo and is "begging for an injection of enthusiasm and vision".
She says the lack of government policy has held up progress in the sector. "Government has never taken ICT seriously as an economic driver for poverty alleviation and job creation - and this paper does not emphasise it enough. What progress the ICT sector has made is despite government policy and regulatory inertia.
"Policies that establish a flexible framework that supports a dynamic, competitive and affordable ICT sector is a key imperative if SA wants to use ICT to enhance its international competitiveness, grow the economy and create an enabling environment for effective and responsive delivery of e-government."
In order for SA to reach its ICT goals, adds Shinn, government must play a minimal role in the delivery of the commanding heights of spectrum allocation and infrastructure rollout. "The DOC should not see itself as the IT department of government, with the economic sector being an afterthought. The infrastructure must serve government and the economy equally.
"Government must create an enabling economic environment, collect the taxes from a booming economy and plough that back into citizen-centric delivery of government services."
Shinn says once the industry trusts the department to regulate the environment for a competitive and robust economic and citizen-centric ICT environment - free from "opportunistic political insiders" - a dynamic, credible, transparent regulatory is possible.
"But trust will take years to build. The industry is frustrated with government's inhibition of the market and does not trust it not to do further harm."
Future-proof policy
Ovum analyst Richard Hurst says government's legacy policies, which have held up ICT development in SA, have had a knock-on effect for facets such as spectrum allocation and wholesale price.
"The development and implementation of sound policies should be regarded as one of the key foundations of developing a healthy ICT environment and sector in the country - one which benefits both the consumer and the business, and ultimately the country."
While Hurst believes SA should not become bogged down in a constant state of policy review, the fact that there has been no review for 15 years rests squarely on the shoulders of government.
Schofield says, as is often the case when starting afresh, if the powers that be want to move forward, they will have to think differently and discard the policies and agencies that are not working.
He notes, however, that there is a tendency for parties to get defensive when talk of discarding something they are attached to comes up. "[But] we mustn't be so attached to history that we can't see better ways forward into the future."
Moving forward
Addressing the conference yesterday, Carrim said policy reviews should take place every five years, but added that, ideally, policies should be developed with enough flexibility to take into account future changes without having to constantly be reviewed.
"If we need to do that, we will - but we should seek to ensure our new policies are up to date and future-proof."
However, the process is a protracted one and, with the 2014 elections and an inevitable Cabinet shake-up in the offing, the industry has no certainty that Carrim will be around to see the processes he has put in place to fruition.
The roadmap to follow after 24 March, according to Carrim, is the compilation of a discussion paper, which will be followed by the National Integrated ICT Policy white paper being gazetted.
The white paper, notes Schofield, will become the foundation on which final policy is based. The DOC describes it as "government's formal policy position on key issues relating to ICT".
On how long he expects the ICT policy process to take, Schofield asks: "How long is a piece of string?"
He thinks it will be at least a year before SA sees any concrete result from the process. "The question will be 'who is driving the process from a ministerial level?'. We would love to have Carrim in place, but who knows."