Dell unveils solar learning lab in Diepsloot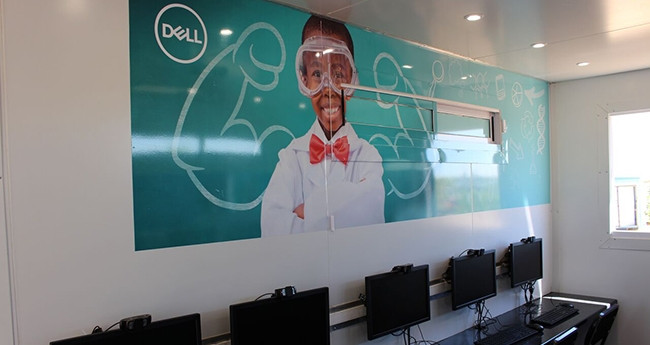 In its effort to empower more than 800 underprivileged youth with ICT skills, Dell has unveiled a solar-powered learning lab in Diepsloot, Johannesburg.
According to the technology giant, the Dell Learning Lab, introduced in partnership with Sci-Bono Discovery Centre, aims to provide technology access to the students, parents and community members of Diepsloot and surrounding areas.
The lab, situated at the Diepsloot secondary school, is constructed inside a standard shipping container. It is home to a dozen computer workstations, furnished with Dell's Wyse thin client computers and Dell PowerEdge Servers to create a computer-empowered learning space. It is self-sustained through an off-grid solar power system and the computers use cloud technologies to run the latest Windows Office systems.
Natasha Reuben, head of transformation at Dell EMC SA, explains: "Dell is passionate about taking ICT learning to youth and more importantly into rural communities. Our overall objective is to enable human potential by giving technology access not only to the students at schools but to the community at large. This is a great initiative that has been well received by the communities they serve."
Professional trainers provided by non-profit organisations, Students' Health and Welfare Centres Organisation, Code for Change and Sci Bono Discovery Centre, will provide the lab visitors with various skills in coding, Web site development and basic introduction to IT, adds Reuben.
"Each lab is equipped to meet the varied demands and desires of a rising community. A curriculum is designed to help the studies of the pupils, and staff are assessed and trained to take advantage of the lab's services. The labs are also always connected, enabling Dell administrators to know if there are technical problems," she points out.
Since officially launching in 2014, 16 labs have been unveiled on the African continent, some in Kenya and Nigeria, with the majority in SA.
The initiative is part of Dell's 2020 Legacy of Good Plan, which aims to provide direct technology access to more than 5 000 underprivileged students in communities where technology infrastructure is limited. Dell says it has introduced 11 labs in SA, and in the past 12 months alone, local labs collectively have impacted over 3 000 students and over 1 700 community members.
"Most of our learners, if you ask them what they get from the lab, they say they are getting more information, accessing books they don't have," says Sihlomo Puzam, one of the parents whose children frequent the lab. "It has changed my child's life so much."
Last year, Dell introduced a lab at Waverley Girls' High and will launch another one today, at Bokamoso Secondary school in Tembisa, Ekurhuleni.