Wasps powerless to stop spam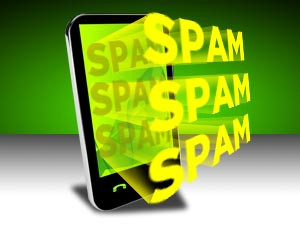 JSE-listed Blue Label subsidiary CellFind and Blue Label Data Solutions argue that without a national opt out registry, they are powerless to make sure their clients do not send out unsolicited direct marketing.
CellFind and Blue Label Data Solutions were both recently fined R20 000 each for contravening the Wireless Application Service Provider Association (Waspa) code of conduct. The adjudicator found they had breached the section of the code that says Wasps will not send or promote the sending of spam, and will take reasonable measures to ensure their facilities are not used by others for this purpose.
The unnamed adjudicator pointed out that both entities, with CellFind being the service provider (SP) and Blue Label Data Solutions the Internet provider (IP), had other similar complaints levied against them two-and-a-half years ago.
"I am satisfied that the IP's and the SP's contentions regarding their relative inability to prevent their services and systems being used to disseminate spam are substantially the same as those raised up to two-and-a-half years ago in similar complaints and they do not appear to have since taken 'reasonable measures to ensure that their facilities are not used by others [to send or promote the sending of spam]'."
The adjudicator wrote Blue Label Data Solutions pointed out that taking steps to prevent consumers' personal information from being used by its clients to spam those consumers could be fruitless and may not "prevent any of its clients using its own database from transmitting messages that may be considered as spam through its current service or any other channel linked to the Waspa members, affiliates or thousands of clients".
In addition, CellFind allowed spam to be sent to the complainant. Blue Label Data Solutions questioned the effectiveness of Waspa members' efforts to prevent spam in the absence of a compulsory national opt-out list.
Still waiting
Spam accounts for as much as 90% of all e-mails and, while SMS spam is less - due to the cost involved - unwanted messages are more intrusive. The Consumer Protection Act (CPA) became law in April 2011 and provides for a national opt-out registry.
However, so far the database has yet to be established; a situation that arose after a funding dispute between the former national consumer commissioner and the Department of Trade and Industry.
In July 2011, the National Consumer Commission (NCC) said the Direct Marketing Association of SA (DMASA), an umbrella body that looks after the interests of the entire sector, was the preferred entity to run the database.
However, in September, the commission said it was considering running the registry in-house, after people objected to the DMASA providing the service, because of potential conflicts of interest.
Acting commissioner Ebrahim Mohamedsays the commission is exploring the best solution for the registry and has been meeting stakeholders and been in touch with its oversight department, trade and industry.
Mohamed says the NCC may partner with another entity to get the database running, which he had hoped would have happened by the end of March. He is loath to provide an implementation date at the moment, but points out that the absence of a register does not mean people can just be contacted for marketing purposes.
Previous commissioner Mamodupi Mohlala-Mulaudzi had indicated the NCC asked the Department of Trade and Industry for R5 million to build the list in-house.
An e-mail addressed to Waspa from Blue Mobile's finance and legal operations manager, Wickus du Plessis, argues, as a solution to the complaint and spam in general, Waspa should implement or recognise a compulsory national do not contact register that can be used to proactively block spam.
Blue Label Data Solutions said while it encouraged clients to join Waspa and adhered to the code of conduct, these steps could be "fruitless". CellFind MD Jacques Swanepoel did not return a call seeking comment.
Freely available?
The member of the public who lodged the complaint said the message, offering him a cellphone deal, was not solicited and was spam. In terms of the Act, people who do not want such messages can refuse to receive them, and they can demand details as to how their information was sourced.
In response, Blue Label Data Solutions implied the complainant's personal information could have been obtained from public information sources. It said, according to the ruling, that "there are various ways to obtain consumer data, public domain being the source we mostly obtain our data from".
Mark Hinnings, client relations manager at Blue Label Data Solutions, told Waspa that he had searched both the deeds registry and the Companies and Intellectual Property Commission (CIPC) database and found the complainant's information on both.
The CIPC has previously said while it has a public duty to disclose information, this is not the same as making data available for sale. It said it was reviewing its practice and is looking at making data available only through select partners that have inked strict agreements.
The office was not able to say how far this process was this morning.
The CIPC said while the resale of information by third persons is legal in terms of the Companies Act, it was considering the requirements of the CPA in terms of privacy. It added that it does not condone its data being used for direct marketing.