Tinder gets social
Dating app Tinder is expanding its offering to include a feature that will focus on organising group dates.
Tinder Social is available on the latest version of the Android or iOS app. Users need to 'unlock' the feature, which means they will become visible to other users who have opted to do the same.
From there, users can select up to four members and start a conversation or share media, to plan a night out, the company says.
"We first test-launched Tinder Social in Australia, where we learned that people were looking for a better way to plan their night out with friends ? tonight.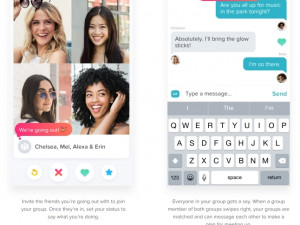 "For this launch, we've made changes to the feature to deliver a more real-time experience. People can see who's going out tonight, what they're up to, and plan their night, easily and efficiently," said Tinder in a statement.
Once in a group, users are able 'match' with other groups going out, similar to how users would swipe left or right for potential dates in the main app.
Tinder says this is for people to find out what is going on that evening and connect groups of friends not necessarily in a romantic way.
The matches with other groups expire the next day at noon.