Ultra HD IR camera for highest resolution at night DF5400HD-DN/IR
With the DF5400HD-DN/IR, Dallmeier introduces a new infrared camera which has been designed specifically for applications requiring images with highest resolution in real-time at day and in the IR mode at night.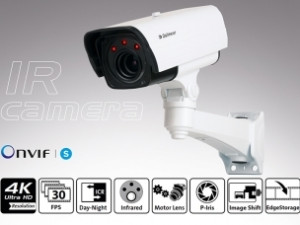 The DF5400HD-DN/IR is an Ultra HD camera with integrated IR illumination. Built into an IP66-rated weather-proof enclosure, the camera is designed for both indoor and outdoor applications. The camera is operated with Power over Ethernet (PoE Class 0, IEEE 802.3af) which allows for an easy, quick and cost-effective cabling and commissioning.
Ultra HD resolution
The high resolution of the sensor and the sophisticated image processing enable real-time recordings with UHD resolution at a frame rate up to 25/30 fps (2160p/30) with excellent quality. Thus, the camera is ideally suited when capturing the finest detail is required in real time.
Automatic switching of presets
The camera is equipped with an ambient light sensor and a removable IR cut filter and can automatically switch between day and night mode. In addition, different day and night presets for the exposure settings can be defined and adjusted.
Integrated homogeneous IR illumination
The automatic Day/Night operation is supported by a uniform IR illumination by means of semi-covert 850 nm high power LEDs. In the IR mode at night, the camera provides excellent results due to the high infrared sensitivity and thus meets the most demanding requirements in a 24-hour operation.
Motor-driven varifocal lens with P-Iris
The camera has a motor-driven megapixel varifocal lens that is perfectly tuned to the image sensor. The adjustment of zoom, focus and iris is made conveniently using a Web browser. The manual lens setting directly at the installation site of the camera is not required. The lens is equipped with a P-Iris control providing a precise and automatic adjustment of the optimum aperture. Thus, the camera achieves a much better depth of field than with conventional DC auto iris lenses under almost any lighting conditions.
Digital Image Shift
The Digital Image Shift function allows a comfortable fine adjustment of the captured image section via a Web browser ensuring a quick and easy installation of the camera. Depending on the selected resolution, the used area on the image sensor can be moved and adapted to the local conditions. The manual fine alignment of the camera directly at the installation site is not necessary.
EdgeStorage
The camera is equipped with a RAM memory that is used by the EdgeStorage function for storing the video stream in case of a network failure. When the network is restored, the SmartBackfill function ensures a fast transmission to the SMAVIA recording system. This stores the video stream with high speed and then continues the recording of the live stream seamlessly.