Sage Intelligence Reporting announces exciting initiatives at annual Sage North America conference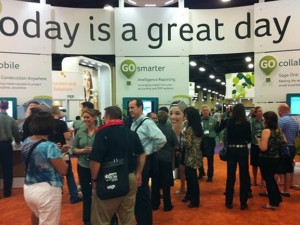 On 23 August 2012, a contingent from Sage Alchemex, developers of Sage Intelligence Reporting software, returned to South Africa from Sage Summit 2012, Sage North America's annual partner and end-user conference. This year, Sage Summit was held at the Gaylord National Hotel and Convention Centre, in Nashville, Tennessee, from 11 to 17 August. Sage Intelligence was showcased extensively, with seven Sage Alchemex team members in attendance running a total of 32 Intelligence learning sessions over six days and manning a busy Sage Intelligence tradeshow booth, which allowed demonstrations to groups of 10 and more at a time.
Sage Intelligence Reporting is a business intelligence module for a number of Sage ERP and accounting products, which promises richer insight into a business. Using the familiar Microsoft Excel interface, it enables more robust reporting and easier access to Sage ERP and accounting data, providing affordable, intuitive business intelligence for small to medium-sized businesses.
Sage Summit 2012 saw the attendance of Sage Alchemex, not as an OEM partner, but as a Sage-owned subsidiary. Alchemex was acquired by Softline, a member of The Sage Group, effective 1 October 2011. Charles Teversham, Sage Alchemex MD, says attending Sage Summit 2012 as part of the Sage Group was "the culmination of a number of exciting developments over the last few years and the launch pad for several exciting initiatives that will take us into the future".
Sage Summit provided the platform for the launch of these initiatives by the Sage Alchemex team, including:
The Report Designer Add-In for Sage ERP 100 Intelligence Reporting
An addition to the existing Report Designer module, a report layout generator that allows for easy-to-use drag-and-drop financial report design, the Report Designer Add-In presents an alternative method of report design to empower Sage 100 ERP Intelligence Reporting users to take full control of all design aspects of their reporting layouts. It provides drag-and-drop Excel financial formulas, which communicate with a new In-Memory processing engine promising excellent performance, maximum control and greatly enhanced flexibility. It promises to provide business partners and consultants in particular with the flexibility they need to create bespoke reports for customers.
Free Report Templates
The vision of Sage Alchemex to fuel a proliferation of report templates, beyond the standard report templates that ship with the Sage Intelligence module, was shared at Sage Summit 2012 and a platform for sharing additional report templates was launched. Report writers can use these templates as a basis for quickly and easily providing customised reports, and thereby added value, for their customers. A number of free report templates were launched on the Free Report Templates Group on the BI Community for use with the Intelligence Reporting module. Sage Intelligence partners or customers can help themselves to these templates or post reports themselves for sharing among the Sage Intelligence community.
Stephen Coull, Sage Alchemex Sales Director, says: "Sage Summit gives us the opportunity to connect with Sage colleagues, partners and customers and show them the power of Sage Intelligence. This was our fifth year at Sage Summit, but our first as a member of the Sage family, and our product continues to be well received. Apart from all the focused activity around showing and teaching the product, the Sage Alchemex team heard overwhelming feedback from partners and customers about how much they had seen added to the product in the last year and how they were really excited about the future of the product following the 'road ahead' sessions where the new in-memory add-in grabbed the most attention. Many Sage ERP 100 delegates stated that this provides a good reason to move off FRx to the Sage Intelligence solution."
Teversham says: "Our longstanding and very successful partnerships with Softline Pastel and Softline VIP entrenched the use of 'BI in Excel' in South Africa via Pastel's Business Intelligence Centre and VIP Payroll's Business Intelligence Manager during the last six to seven years. An OEM agreement signed with Sage North America in November 2009 set us up to proliferate the use of our software globally. Then, in 2011, we were acquired by Softline, providing us with the opportunity to, together with Sage, address the burgeoning need for business intelligence in their small and mid-sized customer base worldwide. Given the feedback from Sage Summit, and the positive response to our initiatives, Sage Intelligence is poised to become the business intelligence tool of choice for SMEs worldwide."
Sage Intelligence Reporting is a Sage-owned product and the Excel-based business intelligence solution for Sage 50 - US Edition, Sage 50 - Canadian edition, Sage 100 ERP, Sage 300 ERP, Sage 500 ERP, Sage PFW ERP, Pastel Accounting BIC, Pastel Evolution, Pastel Payroll and VIP Payroll. Sage ERP X3 has a Sage Intelligence Financial Reporting module.
Sage Alchemex is part of Softline and the Sage Group.