Telkom shares slide on Pinky's exit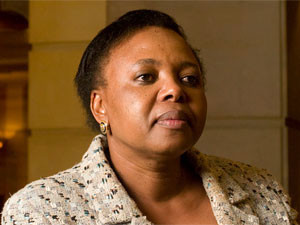 Stock in Telkom lost ground yesterday, closing just more than 3% lower, a larger decline than the All Share index's 0.25% drop, after news that CEO Nombulelo "Pinky" Moholi would leave the company in six months.
While the group's share price fell 3.08%, losing 56c, to close at R17.64, the drop did not quite take it to its five-year low of R17.02, which it hit on 27 July, a few days after officially withdrawing a cautionary announcement relating to the canned KT Corporation deal.
Shareholders have seen value eroded this year after the group reported poor annual results, said its interim earnings would be lower than last year, and Cabinet binned a proposed R3.3 billion investment into the group by KT Corporation.
The group's stock has slid about 40% since the beginning of the year, and it now has a market capitalisation of R9.2 billion - around a fourth of what it values its assets at. Yesterday, about 2.3 million shares changed hands, about a million more than its daily average.
Uncertainty
Irnest Kaplan, MD of Kaplan Equity Analysts, says Telkom has great assets which, if managed correctly, have potential. However, until there is clarity from government around Telkom's future strategy, it is difficult for people to invest.
Communications minister Dina Pule presented a report to Cabinet on a potential way forward for Telkom, after the KT deal was scrapped, but this has yet to be revealed. Kaplan says there could be an investment case if Telkom's strategy is clearly articulated.
Vesact analyst Sasha Naryskine says investors currently holding stock may not be sellers and could see value in the company, although there could be more sell-offs today. He notes that Telkom's share price is near its all-time low. "It can't get much worse than this."
Naryskine points out that Telkom has valued its property, plant and equipment at R36.16 billion, while its market capitalisation is R9.2 billion.
Telkom's share price started moving sharply to new lows after news emerged on 1 June that Cabinet would not support KT's proposed acquisition of 20% of Telkom, for a lower price of R25.60 for every new share. The parties were discussing a share price of R36.06 last October.
After the operator reported its results in June and said it was not declaring a dividend, its stock fell further. It reached a five-year low of R17.02 on 27 July. Three years ago, Telkom stock was worth about R45.
Battling to compete
Telkom's single biggest shareholder is government, which holds almost 40%, while the Public Investment Corporation (PIC) has about 10%. At the end of March, institutional and retail investors - including the PIC - held 58% of Telkom's stock. The company has almost 2% of its own shares in treasury, and 79% of shares are held by South African entities.
When government is forced to compete with business, its shortcomings are shown, says Naryskine. He points out that, in 2003, Telkom had 4.844 million fixed-lines, and this number has now dropped below three million, and cellphone operators are gaining customers at a rapid rate.
Vodacom, which was then Telkom's mobile investment, had 8.7 million subscribers, a number that has now grown to more than 48 million, while MTN has grown from 4.7 million local customers to 24.5 million, says Naryskine. "Joe and Josephine Consumer have voted with their feet."
Naryskine says consumers will pay more for better service, and are expected to ditch ADSL in favour of long-term evolution, the new mobile generation which is currently being rolled out.
Telkom has been battling dwindling voice revenue and reported flat operating revenue of R33.1 billion in the year to March. Its headline earnings were R1.658 billion, and after-tax profit from continuing operations that dropped 93%, to R179 million. It made a R269 million loss from discontinued operations.
In the first half of the year, Telkom expects basic earnings per share from continuing operations to be at least 45% lower than in the first half of the previous financial year. Headline earnings per share from continuing operations are expected to be at least 56% lower.