Naspers' meteoric rise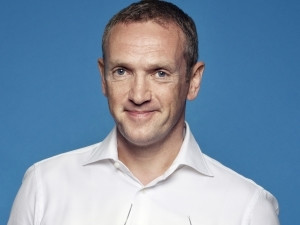 Naspers' meteoric success over the past 10 years can be tracked by the major growth in group revenue between 2007 and 2017.
According to data published in the group's latest integrated annual report for the year ended 31 March, revenue in 2007 was $2.6 billion (R33.7 billion) and grew steadily to $14.6 billion (R189 billion) this year, which is an almost 469% increase over 10 years. Between 2007 and 2012 the group's revenue grew by 176%, and between 2012 and 2017 by another 106%.
The global Internet and entertainment group's financial results, released last month, showed revenue had increased 19% between 2016 and 2017. Core headline earnings also grew 41% year on year to $1.8 billion (R23 billion).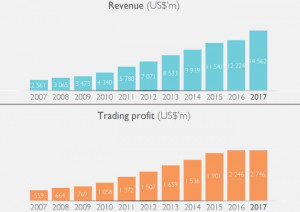 Group trading profit, measured on an economic-interest basis, rose 22% in the past year to $2.7 billion (R35 billion). This was driven by strong growth from Tencent, as well as contracting trading losses in the B2C business, offset by higher development spend and an operating loss from the sub-Saharan African video-entertainment business. Trading profit over the 10 years also grew by 391%, from $559 million (R7.3 billion) in 2007 to $2.7 billion (R35 billion) in 2017.
Naspers notes in the report the information for periods before the 2014 financial year have been translated to US dollars using the average exchange rates prevailing over the relevant financial year.
The Naspers share price on the Johannesburg Stock Exchange (JSE) reached a record high yesterday of R2 874.93 per share, boosting the group's market cap to almost R1.26 trillion. At the end of July 2007, the stock was worth just R179 per share and has since grown over 1 500%, to trade at around R2 868.53 at 11am CAT today. Five years ago today the stock was worth R447.65 a piece, growing 541% since then.
Tencent boost
Chinese gaming and social media firm Tencent's contribution to revenue in the last financial year was $7.5 billion (R97 billion), a 39% increase on the previous year's revenue of $5.4 billion (R70 billion). This made up a big chunk of Naspers' Internet business revenue of $10.6 billion (R138 billion), with additional contributions of $2.9 billion (R37.8 billion) from the e-commerce business, and $186 million (R2.4 billion) from Russian subsidiary Mail.ru.
Naspers now has one of the largest mobile audiences in the world and Internet revenue accounted for 73% of total revenue for the group, on an economic-interest basis, up from 67% a year ago.
The company's video-entertainment section made revenue of $3.4 billion (R44 billion) in the past financial year, while the media business made $588 million (R7.6 billion).
There has, however, been some concern from shareholders over how heavily Naspers relies on its Tencent stake for revenue. Naspers' 33% share in Tencent is worth around $120 billion (R1.56 trillion) - which is more than Naspers' current market cap of R1.26 trillion - and the widening discount between its market value and that of its stake in the Chinese Internet company has concerned some investors. Despite this, Naspers CEO Bob van Dijk in June batted away suggestions the company should spin off the lucrative stake in Tencent as a solution to close the widening discount.
"From the moment Tencent was listed on the Hong Kong stock exchange, some had been asking us to do that. You can imagine how unhappy shareholders would be if I had done that 10 years ago," Van Dijk told Reuters in a telephone interview.
The value of Naspers' stake was only around $231 million (R3 billion) in 2004, before Tencent was listed in Hong Kong.