SA fintech start-up targets African safari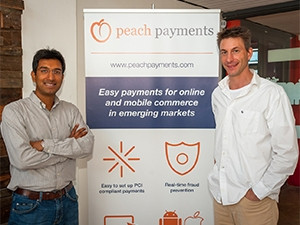 Peach Payments, a Cape Town-based fintech start-up that provides payment solutions, is looking to spread its wings to Nigeria and Kenya, with plans to invade other African countries.
Peach Payments allows businesses to accept payments across all channels - Web site, mobile sites and mobile apps. It gives them access to payment methods including credit/debit cards, bank transfers, mobile wallets, electronic wallets and mobile operator billing.
The co-founders of the start-up are Rahul Jain and Andreas Demleitner. The fintech start-up, which started trading in SA three years ago, claims it now processes more than R1 billion in transactions per year.
Last month, Peach Payments launched a new offering, PaySafe, which it says has already processed transactions worth R1 million.
South African fintech start-ups are increasingly making forays deep into the African safari in search of new opportunities. Last week, local online payment processor PayGate was acquired by East African-based Direct Pay Online in a bid to create a pan-African presence.
According to McKinsey, e-commerce is expected to account for 10% of retail sales in Africa's largest economies by 2025, generating over $75 billion in annual revenue.
"Peach PaySafe allows users to improve their cash flows and dramatically reduce administrative costs associated with collecting payments whilst making the transaction much safer," says Jain.
He explains that one of the biggest challenges businesses in emerging economies face is that traditional online payment systems in Europe and the US were developed in and for these markets.
"Despite there being many players in the payments solutions space, the dire need for advanced payment platforms in developing countries presented us with a tremendous opportunity.
"Our insight into our home market has allowed us to create a payment system that works smoothly for mobile and online merchants and their customers and now for non-online businesses, and to develop allied products that solve real pain points."
Jain notes that over 200 South African online merchants are using Peach Payments, including Zando, Spree, Safarinow and Quicket. International merchants are also coming on board.