Datacentrix sees hyper-growth with McAfee for 2016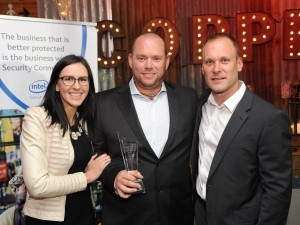 Datacentrix, a provider of high performing and secure ICT solutions, has been named as McAfee's Growth Partner of the Year. The awards ceremony, held recently in Johannesburg, recognised the achievements of McAfee partners and distributors within sub-Saharan Africa.
According to Wayne Olsen, security business unit manager at Datacentrix, security remains a top priority for local businesses, with the International Data Corporation (IDC) recently stating it is still one of the local CIO's top three concerns. "Its forecasts for 2017 were bleak, stating that the data leaks, ransomware and Internet of things (IOT) malware seen over 2016 will continue, an issue compounded by a serious shortage of IT security skills.
"In line with these industry requirements, Datacentrix has placed a strong focus on its partnership with McAfee, attaining the level of Platinum Partner and doubling its engineering capacity around these solutions," he states.
As a result, the company delivered 50% year-on-year growth for 2016, equating to a 66% increase in new customers and a 45% increase on renewals.
"We are delighted to have been named as McAfee's Growth Partner of the Year, as it demonstrates the commitment we have put into this relationship, one that we will continue to invest in, setting our sights on achieving overall Partner of the Year for 2017," Olsen adds.
"Datacentrix has propelled its security drive within the McAfee security portfolio and demonstrated keen intention for delivering a truly connected security architecture to their customers," says Trevor Coetzee, regional director of McAfee South Africa and sub-Saharan Africa. "We are proud to be closely aligned to our partner, Datacentrix, and believe that 2017 and beyond will prove to be a great success for them. Congratulations on a fantastic award!"