SA learners put future education to the test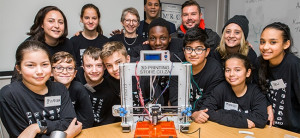 School children from Curro schools in the Western Cape recently took part in a cross-continental drone-building challenge, sponsored by Samsung, which looked at how education will change in the future.
Curro is a private education group that is listed on the JSE and has several schools across the country.
The challenge was led by Curro alumni Richard Quantrill, who now works as an English second language educator in South Korea. He and his team won a tender from Samsung for a study to forecast what education might look like in the future.
Samsung runs educational programmes in South Korea and also sells curricula to after-school academies (called hagwons).
Hagwons are popular in East Asia, and a lot of South Korean children attend them after their regular school. The academies specialise in difference subjects, including music, dance, maths, English, Lego robotics and soccer.
"Samsung, already having a software education curriculum in Korea, wanted to expand it to forecast what education might look like in the year 2030," Quantrill says.
"This meant the team was tasked with investigating the idea of creating a future education curriculum using design thinking, problem-based learning and a combination of industry experts and educators in the same classroom."
The teachers were tasked with finding ways to solve challenges of cross-cultural and communication barriers in a teaching environment.
To facilitate this, the educators teamed up with Curro schools in the Western Cape to run a project that would involve a group of learners from each country working together to solve a problem (via video-streaming) and then build a 3D printer and drone from scratch.
Nine learners from several Curro schools, aged between 10 and 14, were invited to work on the science and technology project alongside a group of eight South Korean elementary school learners, aged 10 to 12.
Collaborating across continents via live video-streaming, the teams were asked to come up with ideas to help in a hypothetical mountain rescue.
"Learners had to envision and pretend-orchestrate rescuing a person who was trapped on a mountain while discussing how the rescue plan could be executed, as well as what obstacles they may face in the situation," the Curro school group says in a statement.
Quantrill says the goal of the collaboration was to study how language creates difficulties in communication, while looking at how learners naturally try to solve this communication challenge.
To assist with the language barrier, the children were all given t-shirts with a series of icons printed on them - they were able to point to the icon if they were finding it difficult to communicate through words. The icons included the South African and South Korean flags, and a magnifying glass for search.
After problem-solving, the teams then had to build a drone and a 3D printer that could be used in a real-life mountain rescue scenario.
"The purpose of the drone is an obvious one in a mountain rescue scene, as it can be used as a vehicle to carry supplies to the stranded. However, the function of the 3D printer was a behind-the-scenes accomplice, as it was the tool that 3D prints the required hook to be attached to the drone in order to carry the necessary rescue items," the Curro school group says in a statement.
Quantrill advised and guided the South African learners via video-streaming while they were building the gadgets.
Curro's subject manager for robotics, Dalene Gelderblom, says: "Throughout their six-day challenge, team Curro felt tried and tested, but inevitably walked away with a valuable new skill set.
"They learned how to build a drone and a 3D printer from scratch, how to use SketchUp software - a design program, Arduino programming and they...even learned how to write in Korean!"
Samsung runs similar educational development programmes each year and Quantrill's team aims to apply for the tender again in 2018.