Skills shortage? Get more girls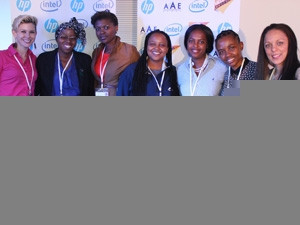 Problems like IT skills shortages and youth unemployment could be addressed by encouraging more girls to consider careers in IT, says Thuli Sibeko, MD of Anglo African Events and organiser of the South African Girls in ICT event, held in Johannesburg on 25 April.
The event was one of many held around the world to expose high school girls to role models and encourage them to consider careers in ICT. More than 140 schoolgirls attended the event in Johannesburg.
In the next 10 years, there will be two million more jobs available than we currently have the skills to fill, said marketing and operations lead at Microsoft SA, Melanie Botha, speaking at the event. While there is a booming market for IT skills, only about 20% of current IT roles in SA today are filled by women.
Not only is there a skills shortage, but limiting the involvement of women in ICT fields narrows thought and fails to achieve the diversity needed to successfully market and develop products. "Technology needs girls to help invent the future," said Sibeko.
She continued: "In a country where there are millions of unemployed young people, it's important to break the existing stereotypes that technology careers are 'too hard' for girls, or 'unfeminine' or even 'boring'."
The event brought together local female role models in ICT to form a panel, allowing the schoolgirls to hear stories from successful women, and ask questions. Role-modelling and exposure are essential, said panellist Mokgaetsi Modise, an application developer. "You can't expect someone to take up a career in computer science or anything IT-related if they haven't been exposed."
The problems facing girls hoping to enter male-dominated industries are plentiful, with obstacles including misguided career counselling and poor stereotypes of women, said Sibeko.
Stereotypes are far from harmless - there is evidence that fear of confirming a negative stereotype about one's group can cause one to perform badly, as well as strong evidence that this affects girls' performance and interest in fields stereotypically associated with men. There is also evidence that reassuring girls about their abilities can help to reduce stereotype threat.
There is a chance that there are more subtle biases at play as well. A study presenting scientists with identical CVs, one with a female name and one with a male name, showed that the female CVs were consistently rated lower on all measures. While fields other than academia have yet to be explored, this indicates that internalised stereotypes can have an effect on women's employment chances.
Getting the girl
So how can more girls be encouraged into tech? The global Girls in ICT day promotes the importance of mentorship and role modelling, and encourages girls to have faith that their intellectual abilities are well up to the task of ICT jobs. But universities and companies need to start making moves as well.
As much as people try to fight the stereotype, the harsh reality is that women are often still the primary caregivers in their homes, and companies that make provisions for this are more likely to recruit and retain the top women in their fields. Google recently found that increasing paid maternity leave from 12 weeks to five months reduced the number of women leaving the company by 50%, and that the increased costs of the benefits were more than recouped by its lowered recruitment expenses.
Modise emphasises the importance of attracting the interests of girls while they are still at school: "At some hackathons, I'd be the only girl there with 30 guys taking part, so I started thinking about how to get other girls involved - why do we not start in the classroom with getting girls to create things?"
Classroom programmes are mushrooming all over, as people start to realise that computer literacy and coding are essential skills for pupils leaving high school. Microsoft's Digi-Girlz programme encourages girls to create games and applications, while the super-cheap Raspberry Pi computer is opening up opportunities to create computer labs and teach coding skills in under-funded schools.
Breaking down stereotypes and encouraging technological competence is vital, even for those girls who hope to enter other sectors, says Intellicred CEO Shana Kay: "It changes lives. Every single industry that you want to go into uses it. If you're thinking that you won't come across it because you want to be an auditor or a doctor, think again."