Enel solar plant fires up 200k Limpopo households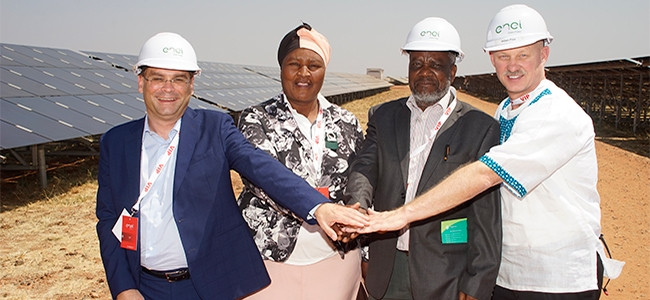 Italian multinational renewable-energy corporation Enel Green Power is firing up 200 000 rural households in Limpopo province from its Tom Burke solar plant.
Yesterday, Enel held a dedication ceremony at the Tom Burke photovoltaic (PV) plant, which was declared a national key point by the South African Police Service, making it the first Enel plant in SA to be given this recognition. Tom Burke is also the company's first large-scale solar project.
Located in SA's Limpopo province, with an installed capacity of 66MW, Tom Burke started operations in August 2016.
Hundreds of jobs have been created for local communities since the construction of the solar plant commenced. Enel also partnered with non-profit organisation, mothers2mothers, to extend support to women at four sites in the Limpopo province, reaching approximately 13 785 women.
Emission omissions
The site was declared a national key point in line with SA's National Key Point Act (1980) due to the important strategic role it plays by delivering energy to the national grid and supplying electricity to nine villages in the Lephalale region of Limpopo.
Tom Burke is situated on 202 hectares of land and can generate up to 122GWh per year, equivalent to the annual consumption needs of around 38 000 South African households, while avoiding the emission of over 111 000 tonnes of CO2 into the atmosphere each year.
There are 488 000 solar panels at the site. These panels make use of thin-film technology. Thin-film solar panels are made with solar cells that have light-absorbing layers about 350 times smaller than that of a standard silicon panel. Because of their narrow design and the efficient semi-conductor built into their cells, thin-film solar cells are the lightest PV cell one can find while still maintaining strong durability.
Tom Burke is supported by a 20-year power supply agreement with South African power utility Eskom, as part of the Renewable Energy Independent Power Producer Procurement Programme (REIPPPP) tender promoted by the South African government, which awarded the project to the Enel Group.
In a speech during the dedication ceremony, William Price, Enel Green Power's country manager for SA, said Tom Burke produces an average energy output of 350 to 360MWh per day. This is enough energy to power roughly 200 000 rural households daily, he noted.
Stable electricity
He explained that during the operations and maintenance phase, the solar plant is closely monitored via an on-site control room, as well as Enel's 24-hour centralised control room in Sandton.
"Stable and secure electricity is an imperative for national governments, both for basic household needs and for industrial progress and overall economic growth," said Price.
He pointed out that one solution to the challenge of continued energy security in Southern Africa is the use of renewable energy. The benefits of producing electricity from renewable resources goes beyond simply being non-polluting - solar PV and wind projects, for example, produce energy without consuming scarce water resources, he noted.
"Renewable power plants are also less capital-intensive, with shorter construction periods, and can quickly provide the energy necessary to meet the consumption needs for a particular region.
"The past decade has seen a revolution in renewable energy technologies and the past five years in particular have seen rapid growth in, and uptake of, renewable energy technologies, with costs falling, efficiencies improving markedly, jobs being created and a marked boost being given to local manufacturing."
The South African Department of Energy launched REIPPPP in 2011. Besides Eskom delaying the signing of new power purchase agreements with renewable independent power producers (IPPs), this programme has been hailed globally as a success, and has channelled private sector expertise and investments into grid-connected renewable energy in SA at competitive prices.
According to Price, IPPs have committed R200 billion in investment for about 7 000-megawatt (MW) of renewable energy so far. This is a remarkable achievement in just five years, he noted.
"South Africa has enormous renewable energy potential, and in particular for solar, thanks to sites that have some of the highest solar radiation levels in the world. These natural resources are what brought Enel Green Power to South Africa."
Expansion plans
Enel first began operations in SA in 2014 and the company already has a significant presence in the local market, with more than 520MW of wind and solar projects in operation.
It currently owns and operates five PV plants in SA: Paleisheuwel (82.5MW), which is situated in the Western Cape province; Tom Burke (66MW) in the Limpopo province; Upington (10MW) and Adams (82.5MW) in the Northern Cape province; and Pulida (82.5MW) in the Free State province.
The company also operates the 88MW Nojoli and 111MW Gibson Bay wind farms in the Eastern Cape.
"It is fitting that we are in Limpopo, which, as South Africa's northernmost province, is known as the gateway to the rest of Africa. Based on our significant presence in the South African market, we are now expanding north into the rest of Africa in a bid to improve the energy security in those markets where too few people still have no access to electricity," Price said.
"IPPs provide an important risk mitigation function to national energy utilities, such as Eskom, as the IPPs absorb the costs associated with operating energy plants, including corrective and preventative maintenance, without passing these costs directly on to the customer or the end-user."