Home-grown taxi app to rival Uber, Taxify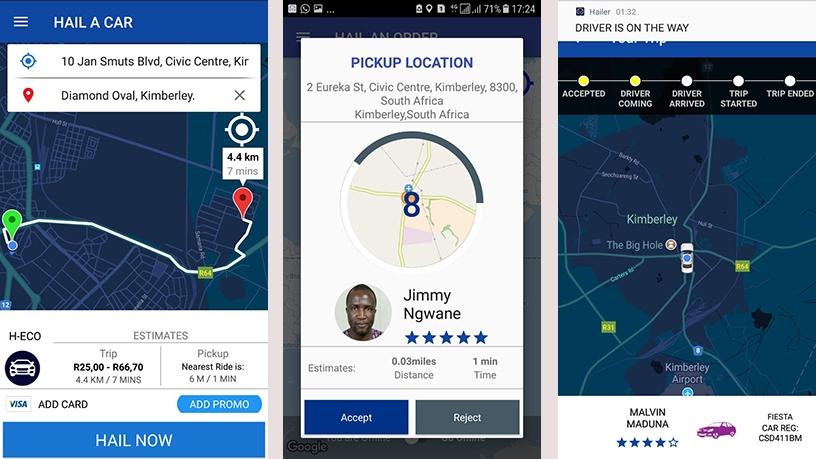 South African commuters will soon be able to choose from three different ride e-hailing services, as a new transport app is set to go live in Johannesburg, Pretoria and Kimberley by mid-June.
Developed by a local technology start-up, Hailer has a similar operating model to other e-hailing services like Uber and Taxify, but claims its safety option and commission structure for drivers gives it the competitive-edge.
Hailer, according to founder Malvin Nkomo, has been in the making for the past two years. When the app launches, it will be released on Android, as the iOS version is still in the development phase, he says.
Nkomo told ITWeb the transport start-up has been running a controlled pilot and testing the platform extensively. The business is currently finalising the app's commercial launch.
While the app will initially be available in Johannesburg, Pretoria and Kimberley, Hailer's services will be expanded nationwide to include all other cities by the end of the year, he says. "We are not limited to population densities. We will scale nationwide over time."
Safety for all
While commuters' pockets will welcome a new player in the e-hailing services ecosystem, the issue around intimidation and violence between metered taxi drivers and app-based taxi operators persists.
Traditional meter taxi operators have long been at loggerheads with app-based taxi services like Uber and Taxify. Last week, the Gauteng Provincial Legislature held a stakeholder engagement session aimed at finding a workable solution in regards to challenges facing the operations of Uber, meter taxis and Taxify.
According to meter taxi organisations, they are not against the alternative transport providers, but want policymakers to regulate prices and the industry.
Nkomo says to ensure the safety of both the passenger and driver, Hailer includes an SOS safety and security solution to alert third-party reaction services and public law enforcement.
He explains: "We are working in partnership with another on-demand service platform called Namola that offers third-party reaction services to any citizen that feels threatened by danger. This service has been launched nationwide. We are integrating their service offering to enable instant reaction services for both drivers and clients. We are also working on including a next of kin service that alerts them automatically in the event of an incident and sends the geolocation and all related information to them."
Nkomo points out the motivation to come up with an app like Hailer is based on growing demand for a solution to address safety and security issues in the e-hailing market. "We also want to put a local twist to the experience and keep the money in our economy. We needed a strong local competitor in this space."
Hailer chief of staff Linda Motea says the new e-hailing service will strive to provide empowerment solutions for SA's disenfranchised youth.
"We also want to help solve the socio-economic problems of unemployment while keeping money in the South African economy. Most importantly, we want to give a better deal to our partners, build overlay services to open new revenue streams for our partners and empower them in the process."
Value for money
The start-up founder believes Hailer's commission model will enable drivers to earn more from their trips.
Nkomo says the model takes the form of a bundled service, like cellphone packages. For example, a driver who makes between R2 000 to R3 000 gets a fixed commission of R250. "So we do not charge commission per trip but per revenue band.
"We have built internal and local capacity to continually develop and enhance the product instead of relying on an off-the-shelf or external service provider to maintain the service for you, hence keeping our operational costs low. The approach becomes more sustainable in terms of operational costs."
He also notes Hailer will incorporate the existing meter taxi drivers on a package of their own inside the application, to enable them to compete at the same level with the other players in the industry.
"We are tackling the exclusion of meter taxi drivers from digital platforms and enabling them with their vehicles to participate in the digital revolution, thereby eliminating the contention that exists between the parties."