Agricultural app Khula wins MTN Business App of the Year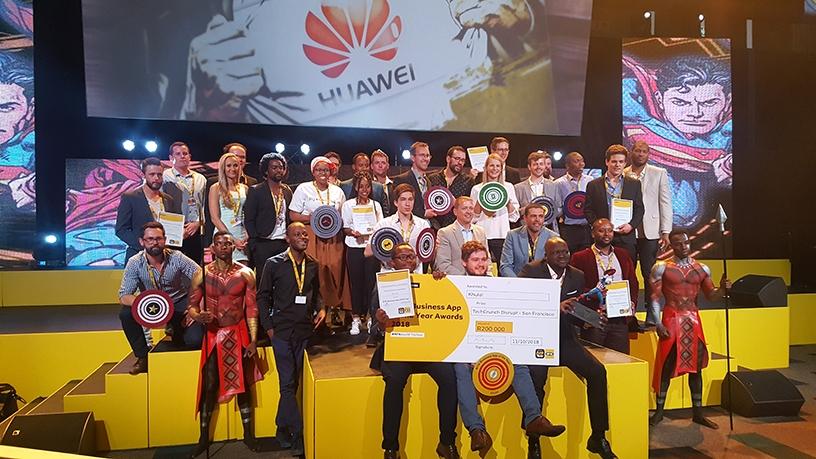 Agricultural app Khula was the overall winner of the MTN Business App of the Year Awards which took place in Johannesburg last night.
Khula is a supply chain solution for emerging farmers, connecting them directly to the formal marketplace. The app creates "one big virtual farm" consisting of multiple emerging farms to crowd-source and deliver on bulk orders from supermarkets, restaurant chains and for home delivery.
"It is an ecosystem, so we have a farmers app which is linked into the supply chain. We have got e-commerce for clients, so whether it's retailers, restaurants or agro-processors, they can buy directly from emerging farmers," Khula co-founder and director, Matthew Piper, told ITWeb during an interview at the awards.
"We have also 'Uberised' the supply chain, so basically third-party logistics companies provide the deliveries to make it more scalable.
"It's a full supply chain solution where we also look at how to de-risk emerging farmers across Africa by building a profile for them, by building a track record and by making them bankable.
"We also have source documents for all of the transactions that happen and we have had a lot of interest from banks to actually get involved in funding the farmers to help them to grow. It's a comprehensive solution but centred around a mobile marketplace," said Piper.
Khula co-founder and director, Karidas Tshintsholo, told ITWeb that winning was "astonishing and almost unbelievable".
"We came here thinking it's great to be nominated, because we are self-funded, and we haven't actually really launched yet, we are still piloting with 200 farmers," he explained.
In addition to winning the overall prize, the Khula app also won in the Best Agriculture Solution category.
"We have always been in the financial inclusion space, and we have a lot of 'agripreneur' friends and we realised that a lot of these emerging farmers have similar problems, which can actually be solved by just working together, which is where the concept of creating this app came from. It's almost like an Airbnb but for farmers where even if you are small with only one hectare you can become part of something bigger," Piper added.
Expansion plans
Khula CTO Jackson Dyora said the next step for the company is to expand across South Africa and then further afield in the rest of the continent.
"Right now we are operating in Joburg but there is a lot of interest in other provinces, so the next step is to expand the system so that you can work with other places as well," he said.
"We want to expand to other African countries. We are planning a trip to Kenya in January and we will look at east African opportunities there. We also have a lot of friends within SADC and West Africa, in Nigeria, so we are looking across the continent. But really for the past year-and-a-half, we have been focusing on just creating a solution that can scale, and once it can scale we can plug it into other countries," added Piper.
Piper said that so far, the founders have put up about R1 million of their own capital "but now in the growth phase there is a lot more that we want to do" and they are looking for about R5.5 million in funding.
The app makes money by taking a percentage of whatever is transacted on the platform, and on the deliveries side it also gets a fee from the logistics providers that are on the platform.
Abundant talent
"The mobile app industry is one of the fastest growing industries globally, with millions of apps out there transforming how people live, work and play," said Wanda Matandela, MTN Business chief enterprise officer.
"The MTN Business App of the Year provides a platform to connect big business and small business, making the world of doing business smaller. The awards also shine a light on locally developed solutions designed to solve a wide range of challenges facing our country, while ensuring the developers get a slice of this multibillion-dollar market."
A panel of judges, comprising industry experts, app developers and previous winners, sifted through over 700 entries and spent two days quizzing the short-listed candidates. The judges then selected the category winners from the short-listed apps.
Category winners
Best Consumer Solution: Pineapple
Pineapple is said to be the world's first fully functioning decentralised insurer. Members enjoy transparency, get back unused premiums and have control over their own communities.
Best Enterprise Solution: Cowa Bunga
Cowa Bunga Last Mile applies optimisation, security, communication and intelligent client-specific algorithms to the last mile supply chain. It is based on a solution currently rolling out to Nando's for home delivery.
Best Incubated Solution: Digemy Knowledge Partner and Besmarter
The Digemy Knowledge Partner is a learning platform that addresses some of the biggest issues in traditional education.
Most Innovative Solution: Bestee
Bestee is touted as world's fastest and only offline virtual assistant. It uses complex machine learning algorithms to compute directly on each user's Android device.
Best Breakthrough Developer: Bestee
Best South African Solution: Stokfella
StokFella allows group social savings clubs to transact and manage their funds on a digital platform that is 100% transparent, convenient and cashless.
Women in STEM Solution: Difela Hymns
The Difela Hymns app is a collection of hymns from the Lifela Tsa Sione Hymn book (Sesotho) as well as Amaqculo a se Wesile Hymn book (Xhosa).
Best Gaming Solution: The African Cyber Gaming League App (ACGL)
The African Cyber Gaming League app allows gaming community to seamlessly connect to online gaming tournaments and receive instant push notifications.
Best Health Solution: dbTrack
dbTrack certified earphones and mobile application allow users to listen to music via a safe, high quality earphone that monitors the exact sound exposure in the ear, in real-time.
Best Education Solution: Xander English 1-20
Xander English Play is an educational app for young children that focuses on developing counting and mathematics skills.
Best Financial Solution: Ctrl
Ctrl simplifies short-term insurance and takes the hassle out of getting and comparing different quotes.
Best Agriculture Solution: Khula
Khula is a supply chain solution for emerging farmers, connecting them directly to the formal marketplace. Khula creates 'one big virtual farm' consisting of multiple emerging farms to crowd-source and deliver on bulk orders from supermarkets, restaurant chains and home delivery.
People's Choice Award: ASI Snakes
African Snakebite Institute's free app.
App of the Year: Khula