The CIO, ephemeralised
Taming technology to reduce employee frustration and drive productivity.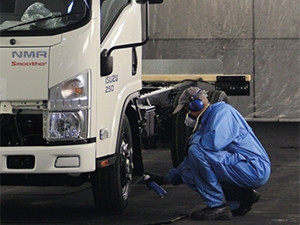 In 1922, R. Buckminster Fuller coined the term 'ephemeralisation' and, over 90 years later, this term has never been more relevant than it is today. Ephemeralisation describes the ability to use advancements in technology to do more and more with less and less until, eventually, you're doing everything with nothing. It was recognised as one of the leading trends last year, specifically within the mobile space, and is impacting IT decision-making, employee productivity and the ever-present bottom line.
The smartphone ephemeralised the mobile device, the cloud is doing the same with software, apps are ephemeralising productivity, and tablets have taken the PC to its slimmest levels yet.
All these solutions sound great on paper, but according to a report by the Hay Group, 'Workplace Frustration: A Silent Killer in Today's Organisation', 20 percent of employees in a typical company experience frustration around their ability to do their jobs with the technology at their disposal.
This undermines employee enthusiasm, energy and performance and has a marked effect on morale and productivity. Ephemeralisation has the potential to shift this frustration and allow employees to harness technology more effectively, but the weight of this change lies on the shoulders of the CIO.
Time is money
"One of the key ways to reduce employee frustration is to empower them, either by providing access to information to make decisions or by bringing the resources required to do the job closer to them," says Paul Collins, commercial channel manager at Acer. "It's no longer necessary to provide massive front-end infrastructure to access a business process; the need for servers, storage and fat clients can be replaced by cloud-type services and smartphones. This releases the employee from having to travel to the information by delivering the information to them." Laurent Leclercq, CIO at Dimension Data, adds: "One resource we don't have control over is time. For me, it's not so much doing more with less, but simply doing more in the same time. CIOs can drive productivity by ensuring the workforce is trained, engaged and kept up-to-date with the technology they have at their disposal."
One of the key ways to reduce employee frustration is to empower them...

Paul Collins, Acer
Jeremy Swartz, regional director, Middle East and Africa at Thunderhead.com, points out that the CIO needs to reduce complexity in the organisation, and reduce the effort and costs around keeping the lights on, to help cut back on employee frustration and drive productivity in the business. It sounds simple, but implementation requires a shift from the inside-out view to one that is more outside-in, and that will take time. Until then, the only way to mitigate employee frustration and improve productivity is to communicate changes, train people and pay attention.
Inside Isuzu: the ephemeralisation highway
Isuzu Truck SA implemented the SAP Business One Functionality alongside an enterprise management module developed by SAP supplier, 4most.
The solution was tailored to fit the automotive sector covering SEM (Dealer Enterprise Manager: Sales and Service) and OEM (Original Equipment Manufacturer Enterprise Manager). This cloud-based solution gives the business a flexible infrastructure that allows it access to modules both on- and off-site, and allows for more control over how the business is run.
"This whole thing allows us to control this massive machine of machines and know that it all works and that everyone, from the people in the production line, to the shipping yard, to the suppliers, is clear as to what their roles are," says Craig Uren, COO of Isuzu Trucks SA. "Since we implemented the EMA solution, our dealers are a lot happier. Their initial investment used to be, for example, around R20k per station, plus a licence fee and a connection fee. On the OEM side, they had to have resources to support those people. Now it's zero. As long as he has a machine and access to the internet, the dealer is fine."
Isuzu's implementation covered a number of areas within the organisation in order to streamline systems, improve productivity, communication and transparency. The following systems were impacted:
* Financial and internal processes simplified
* Warranty processes automated
* Vehicle Procure-to-Pay process automated
* Vehicle Order-to-Cash process automated
* Transaction, reports and views for OEM requirements exposed for OEM access
* Transaction, reports and views exposed for dealer access
* Seamless integration across third party systems and processes
* Operations improved without increasing headcount.
Marked impact
The solution has allowed the organisation to maintain full visibility throughout the sales pipeline and dealer stock. The system has ensured that dealers can view the entire process online and can access data 24/7, making it easy for them to monitor stock and systems. This has had a marked impact on customer and employee satisfaction levels and has had the added bonus of limited costly errors and delays. The Enterprise Manager implementation allows for the automation of warranties in the system, so a significant amount of paperwork has been eliminated.

"One of the critical factors is that we can turn around and give the vehicle to the customer in 30 days instead of 180 days," says Uren. "Before the system, it was very much a manual thing, trying to remember a purchase order you placed five months ago. It was hugely time-consuming and clumsy. Now it's all on the system and monitored throughout."
Through the solution, Isuzu has drastically reduced administration, paperwork and employee frustration. It is achieving 83.3 percent faster customer delivery, an increase in the number of vehicles processed each month from 150 to 500, and a 90 percent cost reduction in IT systems.
This article was first published in Brainstorm magazine. Click here to read the complete article at the Brainstorm website.