Home fibre 'land grab' heralds price war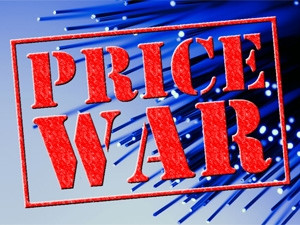 Although SA's fibre-to-the-home (FTTH) market is in a fledgling phase, it looks set to follow in the footsteps of the country's 20-year-old mobile industry, with a price war, as new and existing players vie for a piece of the high-speed connectivity pie.
This comes as yet another player in the market, Bulgarian-based 123NET, plans to aggressively expand in SA.
Industry observers say SA is in the midst of an FTTH "land grab" - a scenario that is likely to result in both consolidation and significantly lower fibre prices within the next few years.
World Wide Worx MD Arthur Goldstuck says the FTTH land grab is the result of a vacuum, "created by Telkom's lethargy in addressing this market".
Africa Analysis telecoms analyst Ofentse Mopedi adds there has been a flurry of activity lately, with many new fibre market players offering trial products and with the biggest market players charging similar prices - a deliberate move to assess other players. "If one operator decides to offer cheaper prices, chances are other Internet service providers (ISPs) will eventually adjust their prices as well."
Mopedi says the main focus for ISPs at the moment is to sign up as many subscribers as possible. "This means the current prices are likely to change significantly in the next three to five years, at which point consolidation is likely to start happening in this space."
As for new players to the fold, industry watchers welcome them, and point out there is a need for national fibre market players as most of the concentration still exists in the major metropolitan areas.
"The new market players will naturally want to shake things up and establish a market for their products, and in the process of doing so, will most likely adopt a low-pricing strategy. That has been the main approach preferred by late entrants in the SA telecoms landscape thus far."
Goldstuck says the industry has argued for years that Telkom's extensive fibre infrastructure puts it in the best position to exploit FTTH, but that its resistance to leading the market would result in it failing to grasp this opportunity.
"As a result, we saw it announcing an FTTH rollout only once Vumatel was signed up by the Parkhurst residents' association. The Vumatel model also woke numerous players to the potential of the FTTH model, bringing giants like Telkom and MTN, as well as numerous one-man-and-a-bakkie players into the market." The result, he says, is a "free-for-all wild west situation".
Pricing play
Recently, a relatively new FTTH player to the local scene - 123NET - indicated it has plans to aggressively extend its fibre footprint in SA, beyond KwaZulu-Natal, where it had its beginnings. The entrant apparently aims to disrupt the local market with ultra-competitive pricing.
Run by Bulgarian native and ISP entrepreneur Kalin Bogatzevski, 123NET is in the process of gauging community demand across SA. Based on interest and viability, he says, it will gradually roll out its fibre network, with Johannesburg having already been earmarked.
"When the plan is ready, we are starting our hard work of laying hundreds of kilometres of new fibre-optic cable, specially manufactured for our project. It is a long-term work."
Edward Lawrence, director of business development at Workonline Communications - currently the wholesale network service provider for 123NET - says the challenge in SA is that consumers, and ISPs focusing on delivering services to consumers in the major metropolitan areas, do not yet have access to extensive fibre grids offered at cost-effective rates. "As cities establish well-built fibre grids and ISPs deliver high-quality services at reasonable rates, consumers will begin to reap the benefits."
Davids and Goliaths
FTTH Council Africa CEO Juanita Clark says, unlike the FTTB (fibre-to-the-business) market, which is relatively saturated and has established players, the FTTH market is very new. "In the battle to capture the 'next community', operators use a wide range of tactics to position themselves as the winning bid [and] when it comes to consumers, price is the weapon of choice."
As far as standing up to the telecoms giants, Clark says newcomers are well positioned to ride the coat-tails of the larger or established competitors.
"Big competitors have expanded the market to the point of FTTH hysteria. New players bring competition and that is always good as it forces existing competitors to consider their own quality of service, pricing models, etc.
"Disrupters are critical to our industry and over the next couple of years we will be flooded with products and services - new players will be old players and consumers will have wide choice."