CT office park feeds city's energy grid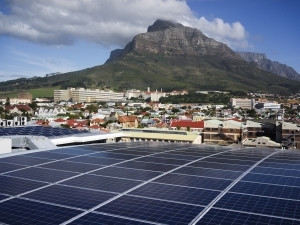 Black River Park - a Cape Town-based office park ? has announced the expansion of its solar power project to start feeding power into the city's energy grid.
The 74 000 square meter facility uses roof-mounted solar panels as part of its aim to become a self-reliant energy producer and will now sell some of the power generated to the City of Cape Town.
The proposed 49.72c per kilowatt hour buy-back rate is similar to the rate at which the city buys electricity from Eskom, but still lower than what the office park pays to buy from the municipality.
According to a statement released by the office park, the 1.2 megawatt (MW) project will become the largest integrated photovoltaic plant in Africa and the first to legally transmit electricity back into the city's electrical distribution network.
Breakthrough for providers
Chris Haw, spokesperson for the South African Photovoltaic Industry Association, says the city's approval marks a "considerable breakthrough" for independent power producers to sell energy back to distributors. "This is something that already occurs in most parts of the world and something we've been trying to implement in South Africa for years.
"We're happy this policy now applies to all solar projects that meet the city's embedded generation requirements and we encourage all municipalities to follow suit," he says.
According to its five-year Integrated Development Plan published last July, the City of Cape Town provides access to electricity for 75% of residents, while Eskom handles the other 25%.
The plan notes future energy supplies will be shaped by a mix of factors, including Eskom's build plan, the price of imported fuel, as well as the availability and usability of alternative energy sources such as solar, wind and gas power.
Green power
National government outlined its intention to rely more on alternative energy providers to add to the grid and Eskom announced load-shedding schedules over the past few months, amid struggles meeting national demands.
Speaking in his State of the Nation Address last month, president Jacob Zuma called for a "radical transformation of the energy sector", adding that government's Renewable Energy Independent Power Producer Procurement Programme will take advantage of alternative means of generating electricity.
The programme aims to tap into the resources of independent power producers to generate around 3 725MW for the national grid, using solar, wind and hydro-electricity.