Africa poised for more innovation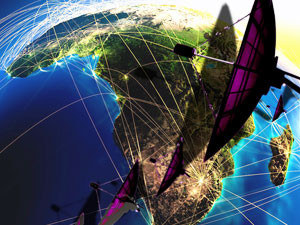 As Africa's telecoms space becomes increasingly competitive, innovation will continue to drive growth for operators and other players in the years leading up to 2018. So says Frost & Sullivan in a recent forecast that highlights e-commerce, e-learning, e-health and e-governance initiatives as ones to watch.
The research firm says the growth of mobile banking and payments will influence mobile network operators (MNOs) to pursue new business models and tap into new revenue streams. "The African continent presents huge opportunities for e-commerce. With the market still unexplored, it is estimated to reach $50 billion (R577 billion) by 2018, compared to just over $8 billion (R92 billion) in 2013.
Ovum analyst Richard Hurst describes innovation as "inevitable" as African markets and end-users keep advancing technologically. "MNOs realise they need to provide more than just voice services, and that other players will most likely use their own infrastructure to supply other services. By broadening offerings, they're essentially trying to stay ahead of the pack.
"It's also a question of potential revenue loss for operators if they let over-the-top (OTT) players eat their lunch - so to speak," he adds.
Hurst says SA's mobile innovation takes place in "pockets of excellence", but falls behind other African counterparts such as Kenya, where developers, MNOs and other stakeholders find ways to complement one another and foster entrepreneurship.
Collaborative effort
According to Mark Walker, regional director for sub-Saharan Africa at the International Data Corporation (IDC), innovation tapping into the health and education space would need government buy-in if it is to make an impact. "Another key element needed is a clear understanding of who brings what to the table and how the partnership best serves the customer's needs," he says.
SA's Department of Health roped in MNOs in its bid to drive the mobile health offensive it launched in August. Dubbed MomConnect, the SMS-based service advises women on pregnancy and acts as a channel to notify the department about poor service at clinics and hospitals.
Vodacom, MTN, Cell C and Telkom were offered a 50% discount on the SMS messages sent to women using the service. Walker adds, while innovation into other sectors is a noble effort, MNOs will still look to boost profit in many of the new ventures.
Not so simple
Hurst notes SA's red tape in the regulation sphere, telecoms environment and tax implications of launching a business, may stifle innovation efforts while other countries forge ahead.
George Kalebaila, the IDC's senior research manager for telecoms and media, notes effective ICT policies the likes of those in Nigeria, Kenya, Rwanda, and Egypt help drive innovation. "They have momentum in terms of using innovation to drive their ICT development forward. In SA, we might have the infrastructure, but that momentum is missing."
The IDC expects policies to increase tech awareness and access, improve device penetration, as well as boost service platforms and infrastructure developments in 2015.