The mayor is trending
Government is coming out of the dark ages - slowly.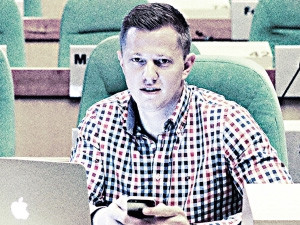 South Africa has 6.6 million active users on Twitter, from @SAPresident down. The platform is becoming a 'go to' for updates on power outages or water faults thanks to the relevant utilities being online. It's easier than trying their call centres. During recent rolling blackouts, both City Power and Eskom's websites crashed due to traffic volumes, but Twitter kept on trucking, so citizens went there instead.
That said, the Economic Development Department's digital communications manager Nick Benson notes: "Social media in government, across the board, is not as mature compared to the private sector. It's still trying to establish itself within the communication matrix of government. Government tends to use social media as a switchboard for general enquires as well as a 'good news' news desk for government campaigns and events."
DA ward councillor David Potter agrees: "The three levels of government (national, provincial and local) are using social media largely as a one-directional tool to communicate with the public. (In the private sector, social media is very much two-way.) Social media becomes more effective with local governments as a bi-directional tool as the area of response per local municipality or metro is much smaller and individual issues can be addressed one on one."
The departments that are better at social media tend to be those better run and managed as a whole, says Digital Bridges director Karte Elphick. She notes that, like the private sector, government is still very much trying to get its head around 'this social media thing'.
Some departments are learning faster than others. Potter, who is a city councillor in the City of Johannesburg metro, cites its Twitter presence. "The City of Johannesburg's main site @CityofJoburgZA was created in March 2012, and started slowly because the City's communications department was new to social media and didn't have much strategy around it. Today, there's a team of communications officials manning Twitter and responding to Tweets seven days a week.
"While the information in response is not always that useful," he adds, "it does give residents some direction as to how to resolve their query. For instance, if you have no power and tweet @CityofJoburgZA, the team handling this account cannot attend to the issue, but can inform the Tweeter to tweet @CityPowerJHB instead."
A fine line
Social media provides government with an opportunity to speak directly to citizens in a more efficient way than almost any other channel. It can utilise social media platforms to market services, promote campaigns, resolve issues and deliver services. However, it can also use said platforms to stick its foot irrevocably in its mouth.
"Given the widespread acceptance and usage of social media in South Africa, it's now a valid communication channel for government," Potter says, "and the benefits far outweigh the perceived challenges. That being said, a major challenge within this space for government is that it needs to draw a fine line between political parties and the state, while providing critical services to the citizens of this country, free of political endorsements."
Government, he adds, is still inclined to apply traditional communication principles to the online space, and doesn't seem to want to learn how to communicate efficiently in said digital space. There are exceptions, he notes, "like the Minister of Sports, who does a brilliant job at engaging with the public via Twitter and being a part of online culture."
Potter (@DavidCOJ102) says social media helps him hold local government accountable and follow up on behalf of his constituents when things go wrong. "I joined Twitter in March 2010 and actively started using it when I became a City of Johannesburg ward councillor for Ward 102 in May 2011," he says. "While at first the number of followers I had was small, it has steadily grown to nearly 5 000, most of whom are residents in the City of Johannesburg keen to know what is going on. They actively tweet, asking for information on power, water and other service delivery issues. When time allows, I monitor trends around service delivery failures such as malfunctioning traffic lights, potholes, uncollected refuse, etc., and then alert City officials. I find the medium very effective."
Potter has a reputation for being able to sort things out - fast - and many Twitter users out of his ward area go to him for help when other channels fail.
Complaint-logging
While Johannesburg's agencies were initially slow, they've improved dramatically. Today, Potter says, many local government entities use Twitter extensively, with some wanting to further expand their presence. The risk," he says, "is that these entities commit to deliver services in the public domain, and are consequently held responsible by every citizen who can see the interaction, where previously communications were private and not visible to anyone else on the same platform. Budgets need to follow delivery in any corporate or government department," he states.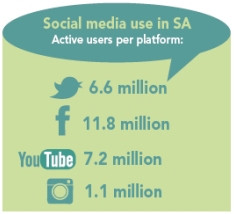 "In time (short term)," he adds, "I would like to see local government make use of social media for the active logging of service delivery issues. Not all municipalities have taken this up fully yet. Much like large corporates take complaints via social media channels, so should government. It's cheap for the public to tweet. Many often can't afford to wait for calls to be answered by ineffective call centres, where the wait time can be extensive."
Elphick says she expects to see social media channels take over from call centres in the future. Certainly, social media platforms offer more effective ways of handling queries than call centres do, and are less prone to falling over when volumes are high, for example. People can also refer to previously asked and answered questions, so rather than 50 people asking, 'when will my suburb's power be back', and each having to wait in line for the call to be answered, both question and answer are visible in, for example, City Power's Twitter feed for anyone to see.
If current activity is anything to go by, Elphick's prediction will come true relatively soon.
This article was first published in Brainstorm magazine. Click here to read the complete article at the Brainstorm website.