UJ receives R1.7m investment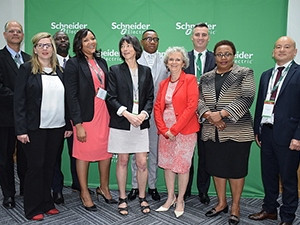 Schneider Electric has collaborated with the University of Johannesburg (UJ), investing EUR100 000 (R1.7 million) to develop 600 electrical and electronic engineering students.
The students will work over three years in the field of energy, according to a statement.
The educational agreement between UJ and the French multinational corporation forms part of Schneider Electric's sustainable growth strategy, which aims to provide opportunities to underprivileged students through intensive vocational training, exposure to and the implementation of innovative technologies through internationally recognised competitive learning programmes.
Higher education and training deputy minister Mduduzi Manana said it is important for institutions of higher learning to collaborate with the private sector to ensure industry needs are met, to help bridge the skills gap through training, internship, apprenticeship and mentorship programmes.
UJ deputy vice-chancellor: research, internationalisation and library professor Tshilidzi Marwala said: "We are grateful for this opportunity as it fosters UJ's global excellence and stature through private sector engagement. In addition, it addresses South Africa's socio-economic challenges and provides for greater opportunity to enable disadvantaged youth to pursue careers in energy-based engineering technologies."
According to a statement, the agreement is focused on establishing a dedicated lab with Schneider Electric equipment to the value of EUR100 000 at UJ's Doornfontein Campus.
In addition, it will support current international training methodologies, with equipment donated by SESA and intellectual expertise from MENESR.
The signing of this agreement forms part of UJ's efforts to broaden access to education. It also highlights the initiative by national and international industry stakeholders to support higher education in SA by enhancing the development of engineers, engineering technologists, and technicians while building capacity among historically disadvantaged youth.
FEBE head of school: electrical engineering professor Johan Meyer added: "This is a massive collaborative venture that provides historically disadvantaged students the opportunity to build competitive edge and knowledge to enhance the energy sector in South Africa."