Samsung Galaxy Note ll hits SA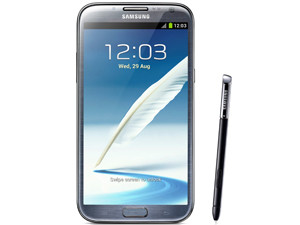 Samsung Electronics unveiled the Samsung Galaxy Note II and Samsung Galaxy Camera at the Galaxy Note II World Tour, in Cape Town, this week.
The new handset is the latest in Samsung's Note range, described by Samsung executives as a hybrid between a tablet and smartphone.
Craig Fleischer, director of mobile business in SA for Samsung, expects the Galaxy Note ll to outdo the 10 million global sales units of its predecessor, the Galaxy Note.
The Note ll is a little narrower and taller, featuring a 5.5-inch HD super AMOLED screen, with an improved resolution, and a battery equipped to handle the improved capabilities of the device. It is powered by Android 4.1 Jelly Bean, with a 1.6GHz Quad-Core processor. Samsung says the Note ll is the ultimate multi-tasking tool.
Other features of the new handset include Air View, which allows the user to view the contents of a file or folder without actually opening it.
Through Popup Note, users can open S Note instantly as a pop-up window anywhere on the screen. The Quick Command function can be programmed to suit the user. For example, the user can use the stylus SPen to initiate an e-mail to a specific person by writing the @ sign and the recipient's name.
"The Note ll is a tool to express yourself in the most intimate detail," said Fleischer at the event.
Samsung also introduced the Galaxy Camera at the Cape Town launch. The new camera combines both camera and smartphone features, including 21x optical zoom, a 16M BSI CMOS sensor and Smart Pro mode, which allows the user to take professional-quality photographs within a few steps.
The 3G-enabled device is currently available, with an LTE version to come out at the end of the year.