Fak'ugesi fest focuses on augmented reality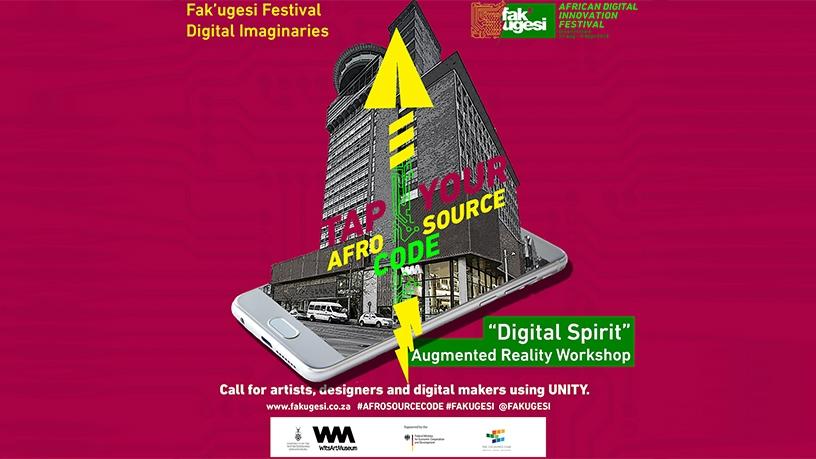 The fifth annual Fak'ugesi African Digital Innovation Festival, in partnership with Wits Art Museum, is offering a specialist workshop in augmented reality (AR).
Young digital artists, designers and makers using AR software platform Unity in Johannesburg can apply for the free workshop, run by experts in the field, taking place in Braamfontein over the two weekends from 25 August to 2 September.
"The aim of the workshop, outside of learning AR, is to explore as a theme the intersection of urban, spiritual and digital spaces in Johannesburg; the 'Digital Spirit' of Johannesburg," say the festival organisers in a statement.
"This may be explored by natural or unnatural time; through people and how they are connected; or the types of data produced and used in and about Johannesburg.
"This workshop will run alongside an exhibition at Wits Art Museum, part of which showcases the work that was developed in the first and much shorter workshop at the Dakar Biennale in May. The outcomes of this Johannesburg workshop will be shortlisted to show at the ZKM in Germany in October as part of the Digital Imaginaires project."
Applicants must be between the ages of 18 and 35, have an existing knowledge of Unity, be based in Johannesburg (or willing to cover own travel and accommodation), have devices that meet the operating requirements of Unity, and have full availability over the two weekends.
The deadline for proposals is Sunday, 19 August, at 23h00. More information can be found here.
Trans-continental residency
During the time the festival takes place, a creative residency is also held in Johannesburg for selected young digital creatives and innovators.
This year, the residency includes artists: Nkhensani Mkhari (Johannesburg), Joshua Chiundiza (Harare), Yara Mekawei (Cairo), Abhiyan Humane (New Delhi), Anoop Saxena (New Delhi) and Mathilde Buenerd (Geneva).
"This year we will see creative technologists dive deep into the algorithms, patterns and fractals of their indigenous cultures. Each will endeavour to respond to the 2018 Fak'ugesi Festival theme, in which we explore the role that vernacular and traditional cultures have in digital culture and practices," says festival director Tegan Bristow.
Bristow says the residency will receive ongoing (since 2016) support from Pro Helvetia and the ANT Fund via the Swiss Agency for Development and Cooperation.
"The residency brings a new generation of aspirant practitioners from these cities together with more experienced artists from India, Switzerland and Johannesburg, in order to plant new furrows of transnational connection and collaboration in the digital arts field beyond its traditional home in the Anglo-American-European world. We do so in the belief that this alternate geography will be an important source of new thinking and practice at the intersection of culture, art and technology in the coming years," says Joseph Gaylard, head of Pro Helvetia's Johannesburg office.
The four-week residency will culminate in a final exhibition on 4 September at the Point of Order Gallery.