Marginal decline in tablet shipments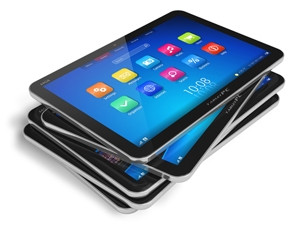 Annual tablet shipments worldwide posted a decline for 2016, dropping 6.6% to 157.4 million units.
This is according to market analyst firm TrendForce which, however, notes total shipments from branded tablet vendors surpassed expectations because of robust year-end holiday sales.
"Together, major tablet brands posted a marginal decline in their total shipments for 2016," says Anita Wang, TrendForce notebook analyst. "Chief shipment contributors included Apple and Amazon. The former enjoyed strong iPad sales in the fourth-quarter busy season, and the later nearly doubled its annual shipments. Other brands such as Huawei, Lenovo and Acer also expanded their shipments despite market headwinds."
Going into 2017, TrendForce believes demand for tablets will continue to be curtailed by the increasing consumer preference for large smartphones.
Furthermore, it says major brands and white-box vendors will be constrained by insufficient panel inventory, as South Korean panel-makers cut back on the production of LCD tablet panels. According to TrendForce's projection, this year's global tablet shipments will come to 147.8 million units, a drop of 6.1% from 2016.
The firm notes Apple posted better than expected iPad shipments last year; at least three new iPad models are lined up for 2017.
It says global iPad shipments for 2016 totalled 42.55 million units, representing an annual decline of 14.1%. Nonetheless, iPad shipments on the whole were above market expectations. Strong demand in North America and exceptional results from year-end holiday sales sustained iPad shipments last year.
Wang points out Apple has as many as three to four new iPad products lined up for 2017. "In addition to an economically priced 9.7-inch model that is ready for market release, Apple will launch a new 12.9-inch model," says Wang. "Furthermore, Apple will also introduce a new 10.5-inch iPad. This will be a new size category for the device series."
TrendForce estimates this year's iPad shipments will fall by 6% to 8% annually to around 40 million units. There are reports of a "Pro" version of iPad mini being planned. If Apple decides to release such a product this year, the annual iPad shipments may stabilise and even register growth, the firm says.
The research shows Samsung's tablet shipments for 2016 fell 19.4% annually to 27 million units.
"The general decline in tablet demand and the fierce market competition compel Samsung to offer products with higher specifications and unique features in order to maintain profitability for its tablet business," says Wang. "OLED displays, therefore, will continue to be an important part of Samsung's marketing strategy for this year."
Samsung has scheduled two models, respectively sized 9.7- and 12-inches, to be released in the first quarter of 2017. Both models will feature an OLED screen, says TrendForce.
It believes Samsung's tablet shipments for this year are estimated to fall by 8% to 10% annually to around 25 million units. The brand will concentrate on developing the high-end segment of the tablet market with OLED products rather than growing its shipment volume, the firm adds.
According to TrendForce, Microsoft saw flat shipment growth last year and will face the challenge of supply bottleneck for panels this year.
Looking at other brands, it notes, Amazon posted a phenomenal 99.4% annual growth in its tablet shipments for 2016, totalling 11 million units. The firm explains Amazon benefited from its vast base of service subscribers and was successful in its fourth-quarter promotional activities. By nearly doubling its annual volume, Amazon climbed to third place in the 2016 ranking of tablet brands, it points out.