Mobility's future in the enterprise
Companies in the mobile first world must allow mission-critical services to run in the cloud.
The industry is acutely aware of what the explosion of mobile devices and applications has done to disrupt IT. The real impact of it, however, is being felt in both end-user and management expectations. The challenge for IT is how this 'disruption' will ultimately play out in the approach it needs to take to operational and business functions.
There is no doubt the future of IT is mobile. So, how can companies retake the initiative in this time of change and prepare for whatever new developments are thrown into the mix?
For IT, there is a major integration step that needs to happen. The likes of Apple, Google, Samsung and Microsoft are making big moves to integrate their own product families - yet it is the role of IT to make secure mission-critical apps and data across these diverse platforms work. No easy task when considering that in this mobile first era, the consumers are picking their own devices.
Building a mobile business
This is where policy management and, to a lesser degree, device management really come to the fore. For example, most enterprise users have a Windows laptop, but use an iOS or Android phone. IT needs to secure and manage these devices, apps and content across business platforms. The real consideration here is to whom and to which device mission-critical applications should be driven for the business, and which platforms should be supported in this quest for business mobility.
Let's take a step back for a second. Look at a company like Samsung. It makes everything from dishwashers to fridges to smartphones, and it's starting to put the Internet into these devices. This speaks volumes to the future of the Internet of things. While people can now control the temperature of their homes from their phones, this machine-to-machine communication within a production line could boost productivity and efficiency within manufacturing and automation, or measure footfall/interactions with a certain product within a retail store.
This is opening up new territory for the enterprise app. It is expected to combine big data analytics with mission-critical application data, such as CRM and ERP, for new insights to devices, as connected devices give real-time data into business processes for a holistic business view. But the apps need to be managed.
For IT, the boldest move that needs to be taken in this mobile first world is allowing mission-critical services to run in the cloud. These apps could include e-mail, file, customer and business data services, all of which support the users in getting business done. The cloud is not the scary place it used to be, particularly in light of mobility. It's the natural home of mobile solutions because enterprises can maintain their business processes and security in the cloud.
Architecture for change
While mobility gains traction, there are stragglers yet to see the benefit, leaving a gap for greater awareness and education in order to overcome the current barriers. These include: security, multiple device and application management, shorter roll-out times and issues around trust.
IT has to lead this change, and its architectural choices are where it can make the first stand - in terms of the user, the services delivered and the control and management of mobile devices. The route of the mobile cloud will give businesses the ability to govern and monitor access to data, offering a much stronger chance of protecting this data. These services also need to be device-independent if IT is going to have the necessary control and security levels.
The cloud is not the scary place it used to be.
Then there is control to be considered. The key issue here is the application of policy - where there needs to be a change in the language of management and the development of an essential engine that establishes the permissions for which user has access to which services.
Looking ahead, the issue around managing mobile devices will simply go away and the platform itself will take on this role. As more applications become mobile aware and more apps are moved to the cloud, companies will need a stronger security layer to manage those devices.
Many employees are tech savvy and have a sense of what IT can provide, so they feel they should have the same experience in the workplace. Remember, freedom inspires greater trust and feelings of inclusion - the mantra for the mobile first world.
Yes, concerns over trust, ownership and delivery have, until now, held some companies back from the mobile cloud, but with the right tools and solutions available, now is the time to fully embrace mobility in the workplace.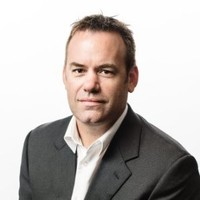 Regional Director, Splunk

Nick Black opened the Splunk office in Johannesburg in early 2019. He has built a world-class team of professionals that address all the fundamentals of driving value into the South African economy through innovative and disruptive technology stacks. Prior to joining Splunk, Black spent five years at VMware in South Africa and six years at Trend Micro – responsible for the Middle East, Turkey and African markets.