New energy minister defers renewables deals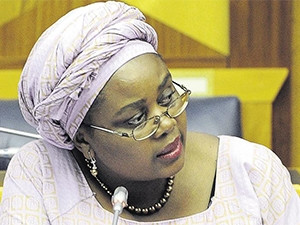 The Department of Energy (DOE) has once again delayed the signing of power purchase agreements (PPAs) with the renewable energy industry.
Following several delay tactics by Eskom in signing the new deals, the renewable energy industry was confident the power utility would finally sign the outstanding contracts today. Previous energy minister Tina Joemat-Pettersson had directed Eskom to sign the outstanding PPAs by no later than 11 April.
This after president Jacob Zuma, in his State of the Nation Address, indicated Eskom would sign the renewable energy deals.
Following Zuma's recent Cabinet reshuffle, Joemat-Pettersson was replaced by Mmamoloko Kubayi.
The new minister's office has now asked that the signing be delayed, saying this is in order to allow Kubayi to meet with public enterprises minister Lynne Brown on the issue. It has been indicated that once the two ministers have met, a new signature deadline will be set.
Sceptics believe the constant delays are a ploy by government to forge ahead with the trillion-rand nuclear deal which they say has been shrouded in secrecy. However, following last week's reports that the nuclear deal has already been signed, Eskom yesterday refuted the allegations, reiterating the remarks made by National Treasury that no deal had been signed.
Falling prices
SA introduced the Renewable Energy Independent Power Producer Procurement Programme (REIPPPP), a competitive auction for renewable energy projects, in 2011. In the auctions held since its inception, bid prices for solar photovoltaic and wind have fallen by 68% and 43%, respectively. REIPPPP has widely been hailed as a great success and possible model for other countries.
By introducing private sector companies into energy generation, REIPPPP has mobilised R195 billion in direct investment, and brought 2 0145MW into the grid. However, Eskom has raised concerns that private producers, from which it is compelled by government to buy at prices it does not negotiate, will undermine its future revenue streams.
Following the latest delay, the SA Renewable Energy Council (SAREC) says it has noted, with concern, that the deadline set by the previous minister of energy for financial closure will not be met.
"While we recognise the need for the new minister to get up to speed on the issues, financial closure of duly procured renewable power for 37 power purchase agreements now stands at almost two years," says Brenda Martin, chair of SAREC.
The industry body says since the previous minister's instruction was issued, independent power producers (IPPs) have taken all necessary steps to ensure they are ready for PPA signatures.
"Over the past few weeks, since the previous minister issued her instruction to Eskom, affected IPPs have been working with Eskom officials to ensure the necessary paperwork is up to date, so that financial closure can be achieved and construction can begin," Martin adds.
SAREC explains that over the past few months, all of Eskom's concerns in relation to PPA signatures have been addressed by Treasury, energy regulator NERSA and the DOE.
It is clear that in policy, by signing PPAs with duly selected preferred bidders, Eskom is not at risk of any unforeseen financial exposure, it notes.
"It is understood that Eskom's obligation to pay for power procured will only kick in once power plants are built and power is generated by IPPs," adds Martin.
She notes that over 13 000 jobs will be created during the construction process, along with over 1 900 jobs created in the operational phase.
SAREC, which represents solar and wind interests in the energy sector, estimates a combined investor value of R58 billion in investment will be unlocked as soon as PPAs are signed. With this investment added to the already R194 billion attracted by the renewable power industry, the industry can continue to make a direct, cost-effective and job-creating contribution to rural community development and to SA's ailing economy, the industry body says.
Positive sign
Meanwhile, another industry body, the South African Photovoltaic Industry Association (SAPVIA), says the added delay is a positive sign.
"We are fully in support of the new minister using this opportunity to get up to speed on the renewable energy programme. That said, there is urgency to get this resolved in the interest of the hundreds of jobs and investment that are hinging on getting these projects into construction," says Davin Chown, SAPVIA chairperson.
SAPVIA notes the delay in signing the PPAs will be a blow to those IPPs that were expecting to reach financial close today.
"We recognise there is a new minister and we support her commitment to making the right decisions based on full knowledge of the industry and the REIPP programme.
"We see this as a short-term delay and hope the ministers can reach concurrence and resolve these matters so that signing can still go ahead this month. It will go a long way towards reducing uncertainty in the industry if the minister is able to provide the industry with a revised signing date," Chown concludes.