Cape Town enhances beach safety via app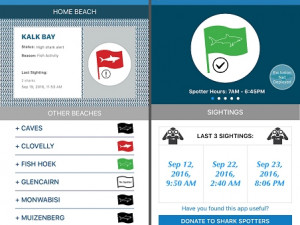 The City of Cape Town, in partnership with the Shark Spotters organisation, has introduced a mobile app that will help swimmers and surfers to be more shark smart at beaches this summer.
The Shark Spotters app provides water users with current and accurate shark safety information on their smartphones so they can make informed decisions about shark risks, even before arriving at the beach.
According to the city, the app gives real-time information, allowing the Shark Spotters to render a more efficient and effective service to the community. Shark Spotters on duty will update the app.
"We believe the Shark Spotters app will be an essential beach safety and information tool for all water users in Cape Town during the upcoming beach season. This app will provide keen surfers and swimmers with specific information about their favourite beach spots even before they travel to them," says mayoral committee member for energy, environmental and spatial planning, councillor Johan van der Merwe.
The app also provides safety information about which flag is currently flying and why. The flags fly for various reasons, including poor spotting conditions due to cloud cover, shark sightings, an indication of water temperature, the lunar phase and whether the shark exclusion barrier in Fish Hoek has been deployed.
Beachgoers will also be able to use the app for all of the other information such as weather conditions, marine animal activity in the area, details of amenities on the beaches, as well as short surf videos of isolated surf spots.
"We are very grateful to all individuals and organisations who contributed to making the app a reality and are very excited to be able to be a key partner in this initiative, which offers such a valuable service to the community. Shark Spotters is an invaluable partner doing some great work and we are proud to be affiliated with this non-profit organisation," says Van der Merwe.
The Shark Spotters app is available on iOS and Android platforms and is free to download.