Telkom promises 'Boltspeed' fibre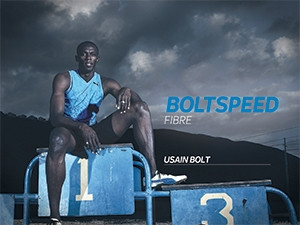 Six-time Olympic gold medallist Usain Bolt has signed on to be the new face of Telkom fibre, with the fixed-line operator promising "Boltspeed" services.
Telkom says the media partnership to promote its fibre technology "is a first of its kind between a South African telecommunications company and an international sprint star".
Telkom is rolling out a fibre to the home (FTTH) network and has committed to connecting one million homes with fibre by 2018.
The partnership with Bolt plays on the Jamaican sprinter's reputation as the fastest man on earth. The 29-year-old is the first man to hold both the 100m and 200m world records, and is the reigning Olympic champion in these events. He is also the first man to win six Olympic gold medals in sprinting.
Telkom's chief marketing officer, Enzo Scarcella, says the association with Bolt helped drive the message of Telkom's commitment to provide South Africans with the most advanced broadband technology available.
"We believe that Bolt, as the fastest person in the world, will assist us in creating awareness of the speed, consistency and reliability that fibre technology offers," says Scarcella.
"Fibre to the home currently allows for download speeds of up to 100Mbps, allowing users to download a standard-definition 4.7GB video in under seven minutes. An entire music album can be downloaded in eight seconds," according to a Telkom statement.
The telco did not disclose how much it had paid Bolt for the media partnership, but his brand does not come cheap. He is ranked 73rd on Forbes' 2015 list of the 'World's Highest-Paid Athletes' with an estimated net worth of $21 million (R295 million). Puma is his chief sponsor in a deal worth $10 million (R140 million) a year, and according to Forbes, the Jamaican runner commands a fee of $250 000 (R3.5 million) just to appear at an event.
Telkom filmed an advert featuring the athlete in his home country of Jamaica last weekend. Bolt had a message for his South African followers, saying he knows he has a lot of fans in the country and thanked them "for all of the support over the years". He added: "Continue supporting and I'll continue winning."