How architectural visualisations can be the X factor to make the sale in the real estate market
Traditionally, when you are looking to showcase a new development to clients there are many steps involved in making the sale. Of course, many of those steps involve physical meetings including site visits, styling and financial discussion etc, which are all very time-consuming and lengthen the sales cycle for everyone. Could digital selling bridge the gap in this market and create a hassle-free experience for all? Yes, it can!
How do 3D visualisations drive the sales process?
Through many years of experience, we have learnt that people who don't work within the architectural space struggle to visualise off of a plan. Of course, this creates quite a challenge when trying to sell to clients not located close to you or who travel frequently.
How then do we simplify the sales process? By providing top-notch 3D visuals of the property, that can be digitally distributed with ease, printed to fit on billboards and catalogues or printed for an in-person meeting. Here are a few different types of visuals that can be developed.
Exteriors of properties are the gateway to making your first impression and will set the tone for the rest of the building. If the client can't visualise and grasp the look and feel through the facade, would they dare venture any further? Look at the example below, doesn't make you want to experience the interior of the property?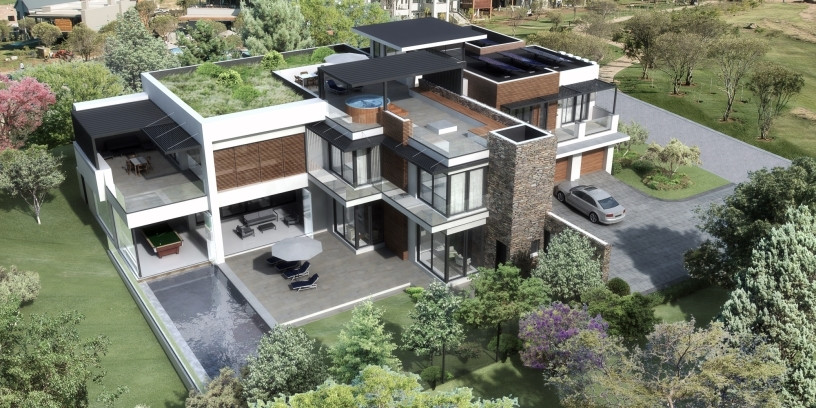 How do 3D exteriors provide value to architects and developers?
Architects
Architectural design is an art form. But the evaluation of design and art is based on personal perceptions i.e. what pleases the eye.
Architects often find it difficult to communicate design because their artistic outcomes are very personal. The use of photorealistic, architecturally accurate 3D images, is an excellent way of communicating design to the architect's audience. Acceptance of design leads to speedy project completion, customer satisfaction and the resultant monetary benefits.
Developers
For developers, photorealistic 3D visualisations generated from the architect's plan and the marketing material generated from these, offer developers a complete selling package. Using our product to sell a proposed development even before the land has been proclaimed, offers a huge cost saving to developers. Effective marketing of developments can start early securing the much-needed clientele to fill up the developments capacity. Effective marketing translates to effective sales which in turn translate to higher yield.
Why do interiors resonate with clients better than traditional plans?
The old adage that a picture paints a thousand words rings true in the property business. 3D imagery helps clients identify what their home will look like removing the need to read off complicated plans or construct actual rooms to visualise it. 3D photorealistic interiors are especially effective in making the transformation of all the ideas in your client's head into reality.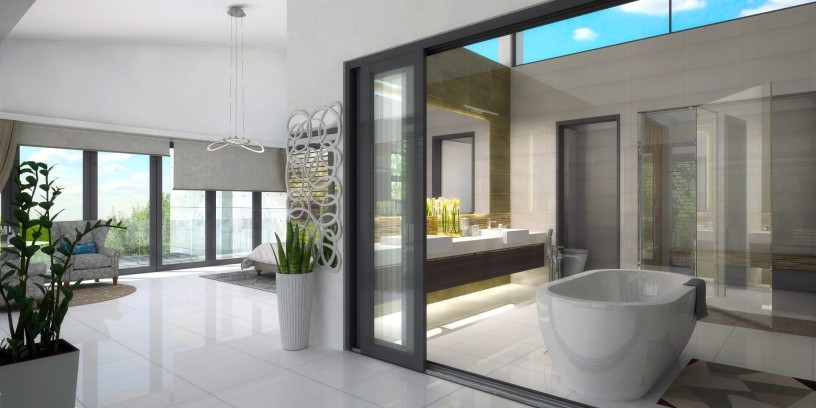 How does it help industry professionals (i.e. Architects and Interiors designers)?
3d interiors affords Architects and Interior designer the opportunity to give clients a tangible representation of their design ideas. Even the small details that help make a house a home such as the textures and colours, specific furniture pieces and lighting can be included to create reality before it is real.
Blueprints (floorplans) are a generic furnished, short lead time floorplan, illustrating the interiors of the complete property regarding size and location. Buyers can visualise the flow of the properties space and grasp how the rooms relate to each other.
It provides great benefit both to the estate agent and the potential buyer by offering a birds-eye view of a property. Instead of physically showing every customer every single property they might be interested in, floorplans serve as a time and cost-effective medium with which to eliminate those properties that might not be suitable. Estate agents and buyers can then spend the time narrowing down their dream homes from only he suitable options saving all time and money.
Why choose Virtualscape to develop 3D visuals for your company?
Virtualscape Visuals (VSV) specialises in architectural visualisations and the generating of promotional material that sells property in a cost-effective manner.
We offer a one-stop service - from 3D visualisations to the design and implementation of marketing and promotional materials. With a staff that are experts at visual communication ready to propel your business forward into digital selling for your next development or home.