CEOs achieve digital acceptance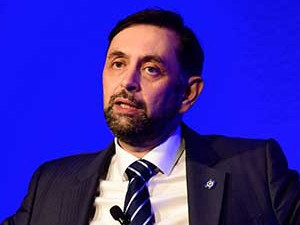 CEOs are changing their positions and attitudes to digital transformation of organisations.
This is the word from Mark Raskino, VP and Gartner fellow, who delivered his speech yesterday during the first day of Gartner Symposium/ITxpo 2016, taking place at the Cape Town International Convention Centre.
Raskino's speech was based on findings from Gartner's annual CEO survey and wider business research, which explored the perspective of the CEO in 2016 and how CIOs should respond to that.
According to Raskino, digital is being taken right to the product proposition itself, which means there can no longer be discrimination between what the product is and what the digital position is.
"CEOs know they must take digital to the core of their businesses, blurring boundaries between the physical and digital world."
Raskino cited franchise McDonald's as an example of a company that is adding a different approach to its business.
The digital officer has introduced self-service kiosks at all 35 000 McDonald's restaurant franchises around the world, he said. "So what does McDonald's sell? You could say burgers but the generic answer is fast-food. The franchise is selling two things: food and fast."
He added that Ford's announcement that it will roll out mass autonomous driving by 2021 is evidence of the level of change that business leaders must follow to stay ahead.
Digital disruption is a real feature that CEOs are concerned about, he said. "Business leaders really are focusing on technology, and after years of pushing it aside, they finally understand that digital is part of the corporate structure.
"CEOs expect digital to have a positive impact on profitability over the next five years. They associate digital with better profits and expect revenue to grow."
However, Raskino said what still remains alarming is that CEOs do not show active interest in efficiency and productivity. "This might actually surprise you as you might think that most of what IT is about is efficiency and productivity, but at this point in the global economic cycle, CEOs are focused on growth and innovation.
"Some CEOs do show concern but don't know what to do about it yet. When prompted, productivity is revealed to be an underlying priority."
Raskino noted the following recommendations CIOs can take to their CEOs to help them achieve digital business goals:
* CIOs should help CEOs to deepen digital business to combat the slowdown in earnings.
* CIOs should help CEOs to prepare or pre-empt digital business industry disruption.
* CIOs should develop corporate capabilities.
* CIOs should help start an initiative to redefine productivity for the digital age.
* CIOs should lobby to reset security culture to a business responsibility.
* CIOs should help their CEOs personally develop and learn about the digital business.