New height-adjustable support section from Rittal
The ergonomic way to use machines.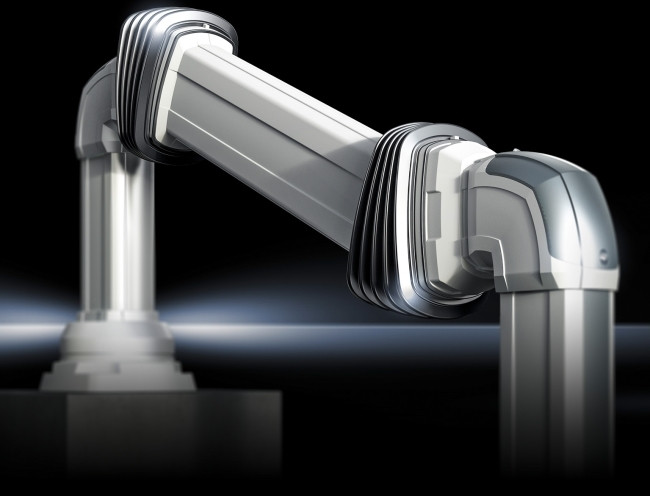 Optimised ergonomics are essential in the workplace. Not only do machines need to satisfy safety requirements, but they must also be designed so that they are as easy to use as possible, i.e. effortless and strain-free. Operator terminals on machines should be flexible and easy to position, using support arm systems. For this to work in the same way for operators of different sizes, height-adjustable support arms are imperative. And this is where Rittal comes in, with the launch of a new development on the market.
Herborn/Nuremberg - support arms are used wherever operator units and terminals need to be positioned flexibly for machine operation. In order to adjust the operator terminal precisely to the operator's height, improving ergonomics even more, Rittal is now offering a height-adjustable support section for its CP support arm system.
The new product is available in two versions in the weight ranges 4 - 30 kg and 10 - 60 kg. The weight can be adjusted in increments within these ranges to ensure that the enclosure always stays at the set height. The weight setting also remains stable for long periods of operation - readjustment is not necessary. This has been tested in the Rittal-accredited quality lab over more than 30 000 cycles.
The height-adjustable support section can be integrated into the support arm system without an adaptor. It is always mounted on the CP 120 system on the wall/machine side. Depending on the weight category, a CP 120 or CP 60 can be attached to the side of the machine operator or be reduced to create a smaller system.
Reliable cable protection
The Rittal CP support arm systems provide plenty of space inside for cable entry. It is also easy to insert pre-assembled cables with connectors in the height-adjustable system. The high protection class (IP 54) means that cables are reliably protected against environmental factors. The protection class remains as high as ever with the integration of the height-adjustable support section. Cables are securely separated from the moving parts of the height adjustment system, so no damage will occur when the support section moves.
Assembly and adjustment made easy
When developing its support arm systems, Rittal placed a special importance on one-person assembly. The same applies for the new height-adjustable support arm. The weight of the height-adjustable support arm is set via a readily accessible screw. Even system adjustment is very convenient. The corresponding screws at the joints are easily accessible from the outside even after assembly.