Facebook Messenger, Gmail hog background data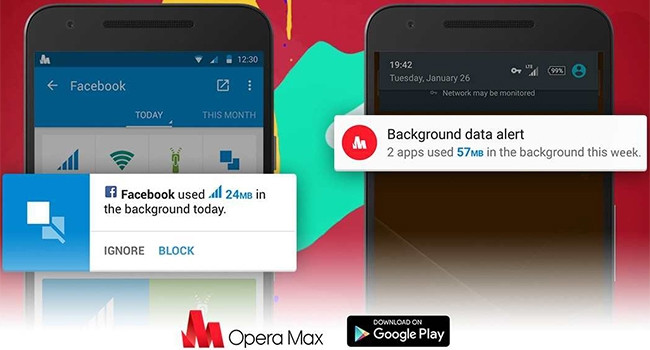 Facebook Messenger and Gmail are the most data-intensive apps that drain users' mobile data while running in the background.
This is according to a new app-usage report conducted by Opera Software, which revealed 73% of total data usage on Facebook Messenger and Gmail happens in the background.
The report also found Google Drive and WhatsApp show more than 50% background data usage.
The app-usage report, which surveyed Opera Max users, is based on data from anonymous aggregated statistics among the users. Opera says it has around 5.5 million Max users and the stats were based on all those users.
In terms of the report, on average, over 30% of all mobile data is used by apps running in the background.
Sergey Lossev, product manager at Opera Software, says: "Most people are not aware of this background data drain and may not have authorised it, nor do they know how to stop it from happening."
Lossev adds: "Most apps are made to give a great user experience, not to save data. If you fetch background data through your data plan, it's like throwing away $1 out of every $3 you spend on your mobile data plan."
Launched two years ago, Opera Max is a data management app that compresses videos and photos on Android phones.
According to the company, users who are avid Instagram, YouTube or Netflix users can save up to 60% of the data usually spent on these apps without a noticeable loss of quality.
Opera says it has engaged 14 original equipment manufacturers, including Samsung and Xiaomi, to embed Opera Max on their smartphones.
Last year, the company said it expects more than 100 million Android phones integrated with Opera Max to be shipped by 2017.
Meanwhile, Opera Max has added "Smart Alerts" to its function to detect rapid and excessive background data usage of over 10MB per week.
The Smart Alerts automatically identify apps that use a lot of data in the background, and lets the user know how to manage these data-hungry apps.