App fights blindness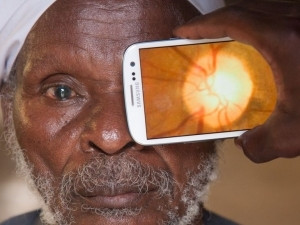 A group of researchers has developed a smartphone application capable of conducting comprehensive eye examinations - ideal for use in remote areas.
The app, called the 'Portable Eye Examination Kit' (Peek), is designed to improve universal access to treatment of visual impairments.
According to Peek, which is based at the London School of Hygiene and Tropical Medicine, 285 million people worldwide are visually impaired, nearly 14% of whom are completely blind. Almost all blind people (90%) live in low-income countries with limited access to healthcare, and 80% of current cases of blindness are preventable with proper treatment, Peek adds.
A huge obstacle to universal access to treatment is the fact that eye examination equipment is bulky and expensive, and is also difficult to transport to remote areas. Peek, on the other hand, may be easily used in remote areas, and is capable of providing retinal imaging, image grading and lens imaging for detection of cataracts, all using the phone's built-in features such as the camera and flash. On-screen vision tests, such as visual field testing, colour vision testing and contrast sensitivity testing, are also included in the app.
Andrew Bastawrous, an ophthalmologist and research fellow in international eye health at the International Centre for Eye Health, based at the London School of Hygiene and Tropical Medicine, is currently conducting a longitudinal study to determine the effectiveness of the application in comparison with standard eye-testing equipment. The Kenya-based study is tracking 5 000 people who were initially examined five years ago. The people are currently being assessed using both state-of-the-art hospital equipment, as well as the Peek app. Other members of the Peek team, who represent various organisations, including the University of St Andrews and the Glasgow Centre for Ophthalmic Research, are providing remote expertise for the study.
The study will assess both the diagnostic accuracy and efficacy of Peek in comparison to full-scale ophthalmic equipment. Preliminary results indicate that the app is effective at detecting conditions such as pale nerves, swollen nerves and optic disc cupping, a condition seen in glaucoma.
Although the app would be useful for healthcare workers, it is designed to be used by non-healthcare professionals, in order to broaden access to eye care. It can be used on young children, since the tests it uses do not require verbal reasoning, and the Peek team plans to make it as widely and cheaply accessible as possible - potentially freely available, should they receive sufficient funding.
Peek currently runs on Android 4.0 or above, but the team plans to make it cross-platform, capable of functioning on Android, iOS, BlackBerry and Windows. Although the app is not currently available in any public app store, individuals interested in accessing a beta version and providing feedback are encouraged to contact Peek. The research team is also eager to encourage further testing of Peek to ensure scientific robustness as well as user-friendliness.