Brainstorm's CIO Survey 2016/17 report released
Spurred by competition and digital transformation, CIOs find themselves under mounting pressure to change their roles and responsibilities.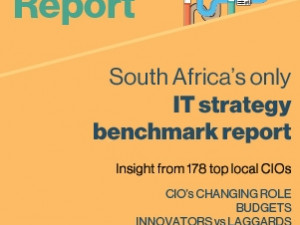 ITWeb Brainstorm has released the results its third annual CIO Survey, based on responses from 178 of South Africa's top public and private sector CIOs.
Run in partnership with MTN Business, the survey was established as a uniquely South African IT strategy benchmark report, and discusses how CIOs' needs are met, or not, by what local vendors have to offer.
It includes five industry-specific chapters - financial services, public sector, industrial sector, ICT sector and commercial sector - and offers a revealing look into the minds of South Africa's top CIOs, their concerns and priorities, their frustrations and successes.
"With the 2014 and 2015 benchmarks in place, we are able to track trends and improvements across the industry and delve deep into SA's CIOs priorities and challenges - from budgeting and cost-saving, to digital transformation and skills retention, to balancing operational and innovation projects," says Ranka Jovanovic, ITWeb's editorial director.
This year's report revealed how the role of the CIO is changing amid a tough business environment, she noted. "It reveals that although some of the old problems such as budget, skills and time are still around, newer ones such as competition, digital migration and globalisation need to be addressed too."
The survey also provides a look at the state of the market, delving into what pressures are being brought to bear on local organisations and under which constraints the CIO must operate.
As many as 83% of CIOs report being pushed to change their roles and responsibilities and the two top reasons for those changes are competition and digital migration, she adds. "In addition, smaller, nimbler competitors without legacy are challenging traditional businesses across the board setting up digital-only operations."
There are some other important concerns coming in just behind the above-mentioned ones: nearly 60% of CIOs say they have no role in delivering innovative business ideas, 70% are concerned with pressure to comply with regulations and more than half are worried about organisational complexity and existing legacy holding them back from new developments.
The survey
Brainstorm CIO Survey 2016 / 17, run in association with MTN Business, was conducted online during August and September 2016. It was by invitation only, targeting CIOs of South Africa's top private and public sector organisations.
The report surveyed 178 CIOs and the key findings were revealed at the Brainstorm CIO Banquet in October 2016.
Now in its third year, the Brainstorm CIO Survey aims to identify key priorities and concerns of SA's CIOs and track how successfully they are transforming into strategic business leaders.
The 70-page report is available from ITWeb's online store
http://www.brainstormmag.co.za/shopx/cio-survey
PRICE: R999
FREE of charge for CIOs who responded to the 2016 survey.
The executive summary can be viewed here.