State needs to invest in ICT for growth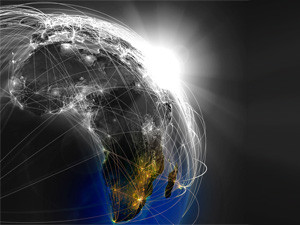 SA is ranked in the lower half of the Global Connectivity Index (GCI), and although the report says the country has potential, analysts say government is stunting growth.
The report, released by Huawei this week, shows ICT investment is "critical" to a country's growth.
South Africa was ranked 33 out of 50 countries with a GCI score of 41. Last year, the GCI looked at 25 countries and South Africa was ranked 18.
This year, the US is ranked first, with a GCI score of 85. Huawei compiled the report by looking at 38 variables divided across four "cornerstones of connectivity": supply, demand, experience and potential.
One of the key insights from the report shows the GCI has a strong correlation with a country's gross domestic product. "The results of the GCI model shows ICT has become a new production factor which drives the economic transformation of a country," states the report.
Another finding shows construction of ICT infrastructure is "critical" and that a 20% increase in ICT investment will grow a country's economy by 1%.
ICT commentator Adrian Schofield says it is an accepted fact that the greater the reach of affordable Internet, the greater contribution to economic growth. "So if government is serious about growth, they will be serious about broadband."
Schofield says all the right policies are in place; government is just lousy at implementing them. "The private sector is doing what they can, but then get blamed for the high costs of broadband that is inaccessible to poorer people."
He cites two major problems: "Firstly, government needs to put fibre in the ground and not concentrate on which government entity will do it." He also says the delays in migration to digital television is not freeing up the spectrum needed for broadband access.
Massive potential
The report shows South Africa was one of the three developing countries that have the most potential, along with Chile and China. Potential is analysed using various indicators, including ICT patents, IT workforce, research and development, software developers, and market projections for the Internet of things (IOT), cloud, big data, broadband, and data centres.
According to the report, South Africa leads in market projections for cloud, IOT, big data, broadband, and data centres.
Ovum analyst Richard Hurst agrees wholeheartedly that SA has massive potential in the ICT arena, but a "lack of understanding" from government is stifling potential. He says a 1% growth after a 20% increase in ICT investment is a significant jump. "Enabling that growth will be easily achievable and the cost to capital will not be that high."
The report highlights some of SA's strengths: "It has Africa's largest telecom network dominated by mobile telephony. Mobile Internet and smartphones are driving m-commerce uptake, and demand for laptops and tablets continue to increase as 3G Internet access costs go down."
However, some of the challenges facing SA include low demand due to shortfalls in e-commerce, cloud and broadband. The report states SA needs to look at: "Policy reforms to increase mobile penetration and broadband in rural sectors through fibre-optic networks, like India and other developing nations, which will help increase domestic demand."
According to Huawei, SA has a smartphone penetration of 31%, and 18.4% mobile broadband users. Other African countries included in the report were Egypt, ranked 36; Morocco, 42; Algeria, 43; Kenya, 46; Nigeria, 47; and Ghana, 48.
The 2015 Global Information Technology report, released last week by the World Economic Forum, placed SA at 75 of 143 countries in its Network Readiness Index. Hurst said this was not surprising as government is not taking ICT seriously.