E-sports business potential dawns on SA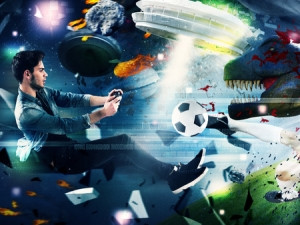 Despite the global e-sports market closing in on the $1 billion mark this year, in SA the industry remains the biggest thing most people have never heard of.
This is according to local industry players, who point out there are several opportunities e-sports present to South African businesses. They believe local companies can capitalise on the e-sports phenomenon taking millennial audiences by storm across the globe.
E-sports research from SuperData projects the total worldwide market for e-sports will reach $910 million in 2016. The largest e-sports prize pool was $20.77 million at this year's International 6 Dota 2 competition, with the largest audience being the 334 million people who watched the 2015 League of Legends World Championships.
Millennial audience
Mlondi Mashinini, co-founder of Global Assembly Marketing eSports, an e-sports consultancy and digital brand agency, says e-sports has, until 2016, largely been an underground movement in SA.
Having said that, he notes, PwC benchmarks the South African gaming industry at over R2.6 billion, estimating it will reach R3.6 billion by 2019.
"While millions of gamers across the country buy games every month and fill up local servers every night competing against their online adversaries, for the most part, they have remained a market segment which is largely unidentified nor targeted by South African business," Mashinini says.
The size, activities and audience the local gaming community represents shows how e-sports is likely to become a household viewing activity in South African homes alongside traditional sport and entertainment in years to come, says Mashinini.
He points out the perception about e-sports is fast changing with cumulative prize money at local e-sports competitions nearing the R2 million mark in 2016, while international e-sports competitions have, for the first time, appeared on local TV networks.
"E-sports is growing at an unprecedented pace and the effectiveness of any attempt to reach an e-sports audience rests on a brand's ability to deliver a relevant message to a largely millennial audience, which is fast moving away from traditional media platforms," says Mashinini.
"E-sports provide brands with a huge opportunity to shift with this audience and connect with a passionate and digital audience that's unduplicated against traditional media channels."
On the up
Colin Webster, general secretary of Mind Sports SA (MSSA), says e-sports are gradually becoming a popular phenomenon in SA. He explains that every year, MSSA shows an increased growth of both clubs and participants alike.
"In 2010, when MSSA started the school championships, there were only three schools that were prepared to start clubs. Today, MSSA has over 53 teams participating in the school championships."
According to Webster, the biggest challenge the industry is facing is the general lack of awareness between the difference of recreational gaming and e-sports. As a result, he says, there are many misconceptions that exist among the public.
"This, in itself, creates unrealistic expectations among a number of people who are entering e-sports for the first time. Another challenge is that there are just not enough spectators in South Africa at the moment.
"As an example, when MSSA's team played against Thailand at IeSF's [International e-Sports Federation] 7th World Championships, the game was streamed to over one million viewers, but in South Africa, a shoutcaster will be lucky to have 300 viewers. For e-sports to grow, there must be more people who are prepared to watch important events," says Webster.
Insider activity
World Wide Worx MD Arthur Goldstuck concurs, saying e-sports are massive in SA, although not always under that banner.
He points out the Telkom Digital Gaming League (DGL) offers R1 million in prizes thanks to the Telkom sponsorship. MSSA has been built up into an officially recognised body that can award national colours for e-sports, along with board gaming, card gaming and robotics, he adds.
"MSSA is affiliated to the International eSports Federation, Federation de Jeau du Mondiale, and the International Wargames Federation. Its founder, Colin Webster, built it up from what was originally the South African Wargames Union. MWEB is also a big supporter of e-sports, with its MWEB GameZone running competitions for many years."
Goldstuck notes about 6 000 gamers take part on the Telkom DGL, and that makes for a solid foundation, but with more money being poured into prizes, and more media attention, it has a better chance of going mainstream than it has in years.
"In the past, it was treated as something of an insider activity, and it was difficult for the randomly curious person to get more involved unless they jumped in LAN and all and became obsessive about it."
Goldstuck, however, believes the biggest undoing for e-sports is the fact that the games are incredibly expensive nowadays, and the cost of equipment needed to play on a competitive level is exorbitant.
"Some mechanism, like a sharing environment, is needed for those who cannot afford to be active players," he concludes.