Speech therapy app gets local touch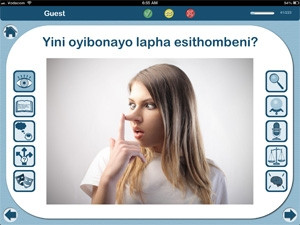 A Zulu version of an international speech therapy application will be launched tomorrow to mark Mandela Day.
Caitlin Longman, speech therapist and audiologist at Parkcare frail care centre and a Vodacom Change the World volunteer, championed a localised version of the Conversation TherAppy application after noticing that many British- and US-made applications were not as relevant to South African patients. According to Longman, the application was originally created by Tactus Therapy Solutions, which she worked with to develop the Zulu app.
Tactus makes speech therapy apps for adults suffering from a variety of disorders, but for the purpose of her work at Parkcare, Longman is focusing on neurological speech therapy apps. "Tactus asked people worldwide to translate this specific app into other languages," she said, adding that the Zulu version of Conversation TherAppy is the first non-English iteration of the application.
The application is commonly used to stimulate conversation by using various images and auditory prompts to elicit responses, says Longman. "I use the app with our early-stage Alzheimer's residents and our stroke patients. It is really nice to have something with visual images that also offers cues to encourage conversation."
For Longman, the use of tablets and apps in therapy has made elements of her job a lot easier. "Once you have made the initial investment of buying something like an iPad, and you have some good-quality apps, you don't have to lug around huge bags of therapy tools, and have a resource that can be used for many different patients, with different strengths and weaknesses," she says.
She notes that one can tailor the apps for specific patients, and at the end of the session, the app will record all the data, detailing which areas patients are struggling with, and what they have achieved. "This is not to say that apps can replace therapy or a therapist, but they are useful tools for us to use."
It took Longman, with the help of a speech therapy student from the University of the Witwatersrand, about three weeks to translate the captions and responses for more than 300 images into Zulu.
According to Megan Sutton, also a speech therapist and the original designer of Tactus' speech therapy apps, Conversation TherAppy will be sold at a discount on 18 July in all timezones across the world in honour of Nelson Mandela. "It seems a fitting tribute to a man who was not afraid to have difficult conversations," said Sutton.
The application is only available for iOS, and will be sold at a 20% discount on Mandela Day.