SA turns to tech to thwart Eskom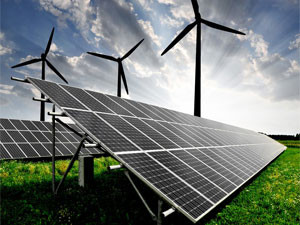 As rolling blackouts become the order of the day, South African companies are increasingly turning to renewable energy and technology to keep the lights on.
The latest entity to look at an alternative to Eskom as a source of power is Johannesburg-based property group Calgro M3, which claims its plans to launch a subsidiary off the grid is a South African first. The company will generate its own renewable energy to run all aspects of the business, including that subsidiary's administration office.
Local companies' shift towards alternative energy and smart solutions is driven by a need to keep operating to minimise revenue disruptions, and the high cost of power from Eskom when compared to renewable solutions, note industry commentators.
Totally independent
Calgro M3 FD Wikus Lategan explains the company is launching a memorial park venture, which will be completely off the grid, from offices to security and lighting. "Every aspect of this business will be powered independently of the national electricity grid."
Lategan adds the company will make use of roof-mounted split solar farms across all roofs of the project to charge batteries connected to a UPS Internet-enabled inverter to achieve its aims. It will also install a backup generator, and each light will be individually solar-powered.
Calgo M3 has, so far, spent R75 million on power for the entire development, and the project will launch on 27 May - having taken eight months from start to finish, says Lategan. "We believe that in this era of tight electricity supply, any move to generate one's own power, to be independent of Eskom, is an important element of sustainability."
Not alone
Other private sector entities are also switching to green power, such as Mustek, which has installed solar panels and LED lights to power its factory, leading to a 40% saving on its monthly power bill. Mustek installed a 213kWp solar photovoltaic (PV) solution on the roof of its head office in Midrand at a cost of R4.3 million. The panels started operating in July 2013.
This was followed by last year's LED light retrofit programme, which saw 2 500 lights installed at a cost of R2.7 million. All told, the company is saving on average R170 000 per month on electricity.
Government has jumped on the bandwagon with a green building for the Department of Environmental Affairs, which cost R653 million to build. Cape Town's Black River office park is one of several businesses installing rooftop solar panels to ease electricity costs.
Makes sense
Sola Future Energy technical director Dom Wills says moving to green power makes sense because of the cost savings. He says Eskom's tariffs - which are expected to continue increasing at above inflation rates - are a driver of the "very big shift" now being seen towards alternative power and intelligent management systems.
Wills notes wind power can be produced at less than 60c a kWh, and solar comes in at less than 80c a kWh, while Eskom's new power stations will charge more than R1 a kWh. Moving to renewable energy could give a return on investment in five to 10 years, he adds. "It makes business sense."
ICT commentator Adrian Schofield adds the continued likelihood of power disruptions over the next few years means businesses have to mitigate the risk of not being operational. This, he says, is one of the drivers towards green energy, buildings and smart solutions. He adds there are a significant number of companies moving towards using Eskom as a backup plan, relying instead on renewable energy.