WhatsApp gets status update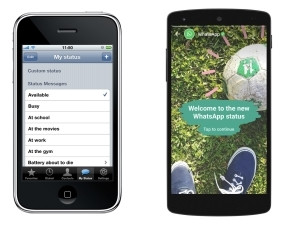 Facebook-owned messaging app WhatsApp is today introducing a feature that will allow users to update their status with pictures and videos that disappear after 24 hours.
Previously, users could post a text-only status that could be programmed to read: "Battery about to die" or "Urgent calls only", among others. WhatsApp says the status was its main focus when the app was created eight years ago.
"The original idea behind the project was to build an application that lets your friends and other contacts know what you're up to. This was months before we added messaging," explains WhatsApp CEO Jan Koum in a blog post.
After messaging was added in mid-2009, the company kept the basic text-only status functionality. Koum says the team discussed improving and evolving the function frequently since then.
Koum says users can choose which contacts can view their status updates and the content will be end-to-end encrypted.
Copy cats
The new ephemeral status feature is similar to a feature integral to Facebook rival social network Snapchat, called Snapchat Stories.
However, WhatsApp is not the first Facebook entity to make use of the feature. The function already exists on its picture-sharing network Instagram and is reportedly being tested in the main Facebook app.
Instagram CEO Kevin Systrom admitted to a room of journalists last year when the Instagram version of the product was launched, that Snapchat deserves all the credit, as reported by TechCrunch.
He said sometimes tech companies are innovators and sometimes firms adopt others' formats and put their own spin on it. Copying Snapchat was a hit for Instagram, which saw viewing of its Stories soar to 150 million in five months.
The WhatsApp status update will work similarly to Instagram Stories, which allows users to add text, drawings and emoji to their pictures and videos in slideshow format.
Users will be able to comment on the status and this will be sent as a message to the creator on WhatsApp.
It is not yet clear if users will be able to share the same stories to WhatsApp, Instagram and Facebook, or if they will have to create different stories for each app.
The update rolls out today to Android, Apple and Windows phones. The status option will appear when the app is updated to the latest version.