iDWork wins Seedstars World SA grand finale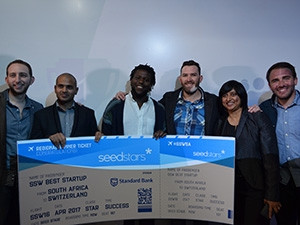 Johannesburg-based mobile application start-up, iDWork was crowned the winner of the Seedstars World national finale held in Johannesburg last week.
Seedstars World says after pre-selection events in Cape Town, Soweto and Durban, finalists were cut down to nine and iDWork was selected as the tenth wildcard entry to compete in the SA final.
Seedstars World, the global seed-stage start-up competition for emerging markets and fast-growing start-ups, brought its SA countrywide competition to a successful close during Seedstars Grand Final hosted in hosted at Standard Bank's incubator in Rosebank, Johannesburg.
In partnership with Standard Bank, the competition aims to identify the best seed-stage entrepreneurs and provides them with an opportunity to win up to $1 million and network with investors and mentors from around the world.
iDWork is a C2C mobile platform that connects technically skilled informal workers (like tilers, builders and plumbers) to clients. It was selected the best start-up for its creative solution to the social issue of unemployment, according to Seedstars World.
On the app, the service providers are also rated by previous clients and community members, enabling users to choose only the best workers.
The app was developed by Sayo Folawiyo, with co-founders Arjun Khoosal and Lucas du Toit. The trio walked away with a half-day business plan workshop from Dot Advisors worth R180 000, a marketing workshop from Duo Marketing worth R25 000, and a router with 100Gb data from Glocell, says Seedstars World.
"I became an entrepreneur mostly because I felt there was a difference I could make, I wanted to learn and make an impact, while doing stuff that I really enjoyed with my co-founders. I also thought that entrepreneurship through the use of technology was the way to do it," explains Folawiyo, who is CEO of iDWork.
The start-up, he adds, will be participating at the global Seedstars Summit taking place in Switzerland in March 2017.
During the week-long training program the winning trio will have the opportunity to meet the other +65 winners, as well as investors and mentors from around the world.
The final day of the summit will be dedicated to pitching in front of audience of 1 000 attendees, with the possibility of winning up to $ 1million in equity investment and additional prizes.
Sortd, which offers a service that organises your e-mail and creates a to-do list, came in second place and Wumdrop, an on-demand courier service, grabbed the last spot in the top three. The other start-ups invited to pitch were online crew booking service Crew Pencil, e-courier service Pargo, safety tracking device Guardian Angel Safety Solution, online parenting platform You, Baby and I, wearable medical device Vitls, free calls provider UmoyAir Communications, and micro-insurer Riovic.
Jayshree Naidoo, head at Standard Bank Incubator, says this year's Seedstars SA once again showcased some of the best start-ups across the board.
"We are extremely proud to be associated with this initiative for the second year running. We have found another deserving winner and we look forward to working closely with the winning team as they prepare for the global competition."
The 10 start-ups pitched in front of a jury panel of six, which consisted of Polo Radebe, chief executive officer atIDF, Ravi Naidoo, executive director for Economic Development and Tourism at City of Johannesburg, Charmaine Padayachy, principal at Omidyar Network, Fritz Milosevic, managing partner at dotadvisors, Marcello Schermer, regional manager for Africa at Seedstars World and Jayshree Naidoo, head at Standard Bank Incubator.
Continuing on its world tour of start-up scenes in emerging markets and scouting fast-growing start-ups, Seedstars World says its next stop is Maputo to select the best start-up in Mozambique on 15 July. Applications are now open and start-ups can apply here.