E-toll talks end in firm defiance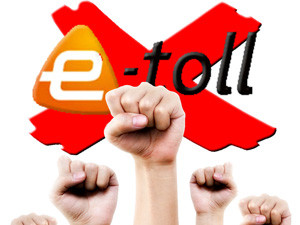 The third and final public consultations on government's proposed e-tolling system ended last night, much as the talks began on Tuesday - with residents up in arms and unyielding in their posture that they would not take the implementation of an "unjust tax" lying down.
The Sunninghill venue was host to a full house last night - with over 300 residents taking the opportunity to engage with the Department of Transport (DOT) and the SA National Roads Agency (Sanral) on the protracted controversy of e-tolls.
Opposition to Urban Tolling Alliance (Outa) chairperson Wayne Duvenage says the overall sentiment is unwavering and the message loud and clear: The people do not want e-tolls.
With at least 95% of affected parties against e-tolls - according to Duvenage - the gist of protestors' feelings is evident in this anti-e-toll sentiment a reader posted on ITWeb: "Be ready to be crushed possibly in a civil war. You have heard the majority speak out, yet you are oblivious, must-be-stupid or pig-headed with head-in-sand ostrich style government and road body that is going to burn.
"You need to be strongly reminded... you are indeed our servants, voted by us to do our bidding with our hard earned month on month taxes. Not to use our monies wastefully and live the high life in the stratosphere, simply through the sweep of a pen stroke of your office." (sic)
Chance to speak up
The consultation period, launched on 26 October when transport minister Ben Martins announced e-tolling would go ahead, following a conclusive decision by the inter-ministerial committee, closes on 26 November.
The process includes an invitation by government for residents to send the DOT written submissions on their objections and opinions on the blanket tolling of Gauteng's roads, as well as the three public meetings that were held this week in Johannesburg and Pretoria.
Duvenage says - although it cannot be said that any of the feedback will be taken into account - the meetings were good in that they gave residents a chance to be heard and to vocalise their frustrations. "This is the first time [the public] saw opportunity to engage directly with authorities on the matter, because (contrary to what Sanral likes to believe) they have not been consulted properly on the matter."
Ticking the box exercise
However, Duvenage criticised the authorities for their narrow approach to public consultations, saying it is surprising they did not take the meetings into the "poorer" areas as well. "This was just a ticking the box exercise - so they think they only need to consult with those who have access to the [more upmarket] areas of Kempton Park, Sunninghill and Pretoria. But they didn't go into Soweto, for example - or to the west of the region."
DOT spokesperson Tiyani Rikhotso says the venues for public consultations were subject to availability, and the department tried to host them from as central as possible locations. "We were not able to reach the whole country and availability was a factor with year-end functions, etc, frequent at this time of year."
Besides, he says, "all is not lost" as the public still has about 10 days for written submissions. "Everybody - even those who were able to attend the public meetings - are still able to put forward their written submissions. So nobody is disenfranchised in this process - anyone can have their say."
He says, to date, about 3 000 written submissions on Gauteng's e-tolling system have been relayed to government.
From Outa's side, Duvenage says about 2 500 written objections have been submitted, with a lot more expected. "It will be interesting to see how they are going to view these, and whether or not feedback from the meetings will be taken to the powers that be and make a difference is doubtful."
Now what?
With the public participation process having drawn to an inconclusive and frustrating close, Duvenage says all that is left to do now is wait for the court case in two weeks' time.
"The court case on 26 November will take about two months to conclude and one never knows what the outcome will be. We have a strong chance, but it is uncertain how court proceedings will play out nowadays."
Democratic Alliance Gauteng caucus leader Jack Bloom says, in the current context, the hearings were totally inadequate. "[The meetings] were a farce since the department intends to go ahead regardless."
He says government should await the outcome of the court case, as this "could well halt the e-tolls".