China's Silicon Valley
Shenzhen produces 90% of the world's consumer electronics; however, visitors won't be able to tweet about it.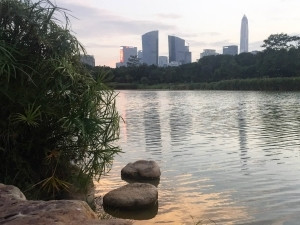 Last week, I found myself in one of fastest growing cities in the world. A city responsible for the majority of the world's consumer electronics output and bursting at the seams with technology innovation; and I couldn't tell anyone about it, literally.
I couldn't post a picture to Instagram, update my Facebook status, live-stream through Periscope, or search on Google. I was lost. I knew where I was physically, in Shenzhen city in China with a group of South-East-African journalists on a press tour. But virtually, I might as well have been dead.
The virtual private network I had downloaded was being temperamental; the Internet I knew and loved was just out of my desperate clutches.
Amid this stress and frustration, I looked up, away from my phone screen. A sarcastic eye-roll turned into a 180-degree neck crane. Surrounding me were the tallest concrete monsters I had ever seen in my life.
I put my not-so-smart-now phone away; without the Internet, it was of little use to me. For the rest of the trip, it would be used only as a camera.
Flashing LED lights came at me from all directions and I ducked when a mini drone came rushing past my ear as I walked down the crowded streets of what some have called China's Silicon Valley.
A short history
Just 30 years ago, Shenzhen was a small fishing village with only 30 000 residents. Today, the thriving megacity spans 2 000km-squared and boasts a heaving 15 million-strong population. It is now home to huge tech manufacturing companies, such as Huawei, Tencent, Foxconn and ZTE, among others.
The sudden boom can be traced back to 1979 when the city was made a Special Economic Zone. This meant the government allowed special economic policies, incentives for foreign investments, and more independence on international trade activities.
Basically, it became a small pocket of controlled capitalism within a communist state (hence the strict Internet laws).
I was told that other than the attractive business laws, the advantages to having a tech company in Shenzhen is the location (an hour away from Hong Kong) and the workforce (see current population size above).
It is estimated the city produces up to 90% of the world's consumer electronics. Easily believed: the close proximity of the different tech companies would definitely allow for a product to be produced, from concept to packaging, in the same area.
First impressions
Within minutes of driving out of the airport, I spotted a Tesla car (there is an Uber option to order one if you like, with the minimum fair equating to R100) followed by the new BMW i8 part-electric super car. These cars were among other fuel-guzzling luxury cars, but those get enough brand mentions.
The city has the feel of an awkward teenage boy who grew up too quickly. The 60-storey blocks of residential flats are scruffy, tall and lanky. The hotels and financial buildings are bright and shiny, each trying to out-peacock its neighbour.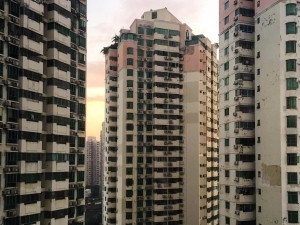 Shenzhen is home to the fourth tallest building in the world, the Ping An Finance Centre. After construction is completed early next year, the building will stand 600m tall with 115 stories.
A mix of the aspirant, super-wealthy and working-class fill the streets. People drive and walk with a purpose; everyone looks like they have somewhere to be.
Even with the thick humid air clawing to every bit of exposed skin, women are still dressed in chic tailored dresses and men in fitted shirts and waist coats.
The population is made up of two extremes: intellectuals with a high level of education, and migrant workers with poor education. It was reported in June 2007 in the Shenzhen Daily that over 20% of China's PhD graduates worked in Shenzhen.
The shopping
Shenzhen has one of the largest electronic markets in China: Huaqiangbei Commercial Street. Each shopping centre ranges from four to 10 stories high, filled to the brim with tech equipment.
It is a common misconception that everything is cheap or fake in China. Locals say this could have been the case 10 years ago but not anymore. I went to China expecting cheaper prices. However, most of the prices were on par with what you would expect to pay in South Africa.
Some of the shopping centres resemble an informal marketplace - open plan floors with people behind tables or shelves selling their wares. These stores sell genuine products that are not in their original packaging and customers are able to haggle for a bargain. Locals recommend asking the seller to suggest a price and then starting with a price 80% lower than that: "If they say 100, you say 20."
Locals did warn that if the product is not sold via an authorised dealer, you can safely assume it was a "genuine fake". Although to the untrained eye, it would be impossible to distinguish.
Happily efficient
The national red and yellow Chinese flag adorns every street corner, and mottos like 'efficiency is life' are plastered across highway walls.
China is known, perhaps unfairly, for producing lots of products in long machine manufacturing lines and exploiting factory workers to do so.
This was not the feeling I got. People were busy being busy and happy to be so. It felt like place of opportunity, with no time for any of the 15 million inhabitants to have idle hands.
In one of the fashion markets, customers could select a trench coat from one of the runway pictures on display. The woman sitting behind the sewing machine then tells you how long it will take her to make it up and deliver it to you - usually three or four days.
No one died
The shiny lights of the city and smiles of the people had distracted me. Suddenly it was five days later and time to make the trek back home. I had survived the limits imposed by the Great Firewall of China, but I was still excited to get back to 'real' hassle-free Internet.
Shenzhen had been amazing, but surely by now I must have hundreds of notifications and messages on my social networks after my leave of absence.
I put my not-so-smart-now phone away; without the Internet, it was of little use to me.
Not so. Facebook - three: two obscure event invitations and a friend request from someone on the tour. Twitter - nothing. No important e-mails. The timelines kept on turning. My contribution was not missed. No one had died.
I lost an hour, before shower or bed, to scrawling through the mundane information active social media personas share. So-and-so got a new unremarkable carpet for her guest bedroom. So-and-so ran 10.5km this morning ? 0.5km more than yesterday #winning! Of course, all the baby and wedding pictures infiltrated these updates.
'Efficiency is life' passed through my head. I definitely was not embodying that statement in that moment.
Despite whatever political reasons govern the Internet restriction, I am beginning to think they may have the sweeter deal.