The ABC of Google's latest results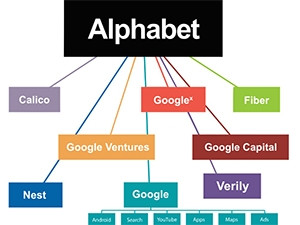 Google shareholders', investors' and analysts' fears have been allayed after holding company, Alphabet, showed the core Google business will be able to carry the company's ambitious 'other bets' for years.
'Other bets' is a term used by Alphabet to describe all its business that is not core-Google-related. This includes Calico, Nest, Google X labs, Fiber, Verily and Google Ventures. The core Google business consists of Android, Google Search, YouTube, Apps, Google Maps and Ads.
"The fundamental difference in the financial results this time round is that the core advertising business has been separated from the visionary, the experimental and the so-called 'moon shots'," says Arthur Goldstuck, MD of World Wide Worx. "The result is a much clearer perspective of why Google does what it does in non-core areas, and of the massive potential for long-term returns, which makes losses from such activity that much more palatable to investors."
Moon shots
Google's move to self-generate a parent company last year gives investors a clearer idea of where money is being spent and lost.
"There is a certain quirkiness to this business and their reporting. They certainly do not conform to most standards. Perhaps the business is trying in their own way to break the mould," says Sasha Naryshkine, portfolio manager at Vestact.
"They present the core business and then the 'other bets' revenue, which is a mere 0.6% of total revenue, yet incurs a sizeable loss.
"Total revenue from Alphabet businesses Fiber, Nest and Verily is less than half a billion dollars, yet collectively the cash burn there is astonishing. These businesses as a collective recorded a $3.6 billion loss," says Naryshkine.
However, he believes the Google core business will, "certainly carry the 'other bets' for a long time. The core Google business generated $74.5 billion in revenue, and operating income was an equally impressive $23.4 billion."
Ad growth
"Our very strong revenue growth in Q4 reflects the vibrancy of our business, driven by mobile search as well as YouTube and programmatic advertising," said Ruth Porat, CFO of Alphabet.
Google's advertising revenue reached $19.08 billion, up 17% from the prior year, and total paid advertisement clicks increased 31% year-over-year. YouTube and ads are where most of the company's profits come from.
It was announced that 80% of all YouTube views originate outside of the US. Goldstuck says this is highly significant. "On the one hand, YouTube is not dependent on its home market for its growth, and on the other, it has built a global audience. This both builds the foundation for a massive global advertising revenue stream and creates the springboard to enter the global video-on-demand arena once Netflix has blazed the trail."
Concerns that ad-blocking technology may cause a dent in ads profits is unfounded, says Goldstuck. "Ad-blockers have not yet made great inroads on mobile devices. Further, more and more media sites don't allow access to content if people are using ad-blockers, and that will prevent them from going mainstream.
"Finally, Google has a sophisticated advertising platform that does not rely too heavily on the kind of ads that the blockers would keep out."
Core business
It was announced during the results that Google e-mail service Gmail reached the one billion monthly active user mark at the end of last year. Gmail joins Google Search, Android, Google Maps, Chrome, YouTube and Google Play with this milestone.
"It is a psychologically significant landmark," says Goldstuck, "since it underlines the fact that Gmail is now taken seriously by users and has outgrown the immaturity that has left players like Hotmail and Yahoo Mail floundering in digital adolescence."
Unlike other companies that are announcing the one billion user mark, Gmail is already being monetised through targeted advertising, and has done so for years.
For example, on Tuesday, Facebook's WhatsApp announced it met the milestone last quarter. However, the company has not disclosed clear monetisation plans, saying only it will focus on simplifying how businesses interact with consumers this year.
"WhatsApp must eventually be monetised," says Goldstuck. "For now they are going to be offering a commercial service to businesses to have their own pages or channels with unlimited users. Later I can see them offering a number-free version to people who are willing to view ads. In the long term, advertising may well become part of the model. For now, however, it's all about the numbers.
"Google becoming the most valuable company in the world marks the end of the beginning of the digital revolution," says Goldstuck. "It is the ultimate signal to all major businesses in all industries that they must embrace digital or become also-rans."