#HowOldRobot raises privacy concerns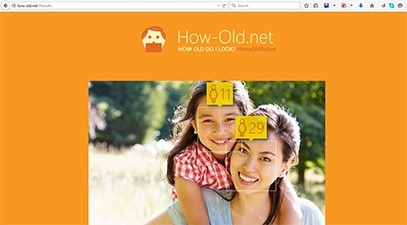 Microsoft has come up with a nifty app that guesses people's age and gender via an uploaded photograph, but there are privacy concerns.
Microsoft's How Old Do I Look site allows people to upload their pictures, or play around with some of the preloaded snaps as a fun way of guessing ages and genders. The app, which has gone viral, was developed as a demo for the second day keynote of Build2015 developer conference.
The Twitter feed on #HowOldRobot shows quite a few people have been getting pleasure from the app, poking fun at how old they, or others, are meant to be according to the tool. One user posted: "#howoldrobot is what really ended the @katyperry @Madonna @ladygaga feud."
In a blog, Corom Thompson and Santosh Balasubramanian, engineers in information management and machine learning at Microsoft, explain where the idea came from: "We wanted to showcase how developers can easily and quickly build intelligent applications using Azure services."
The developers explain they used Microsoft's newly-released face detection APIs to set up the app, expecting a few "tens of people" to try it out. Instead, the app - which took a day to build - reached 35 000 users across the globe, and resulted in 210 000 images being uploaded.
Worried users
However, the experiment, which was meant to be fun, resulted in concerns being raised over possible privacy breaches. Twitter user Brandon Wall warns that using the service exposes people to Microsoft's terms and conditions, allowing it to use the end-user's "submission" across all its Internet services.
This, according to the terms and conditions Wall posted, includes allowing Microsoft to "copy, distribute, transmit, publicly display, publicly perform, reproduce, edit, translate, and reformat your submission; to publish your name in connection with your submission; and to sublicense such rights to any supplier of the Web site services".
David Lumb writes the text comes from Microsoft Azure's terms of service. "Of course, building How-Old.net on top of Microsoft Azure means all those photos ingested are subject to the Microsoft Azure terms of service, which means Microsoft can use those photos pretty much however it wants. Will Microsoft use all those faces in an ad? Probably not, but it's a possibility."
Another article also raises concerns about Microsoft's terms and concerns.
Overreaction
However, Thompson and Balasubramanian make the point that Microsoft does not store, or use the photos.
"No we don't store photos, we don't share them and we only use them to guess your age and gender. The photos are discarded from memory once we guess. While we use the terms of service very common in our industry, and similar to most other online services, we have chosen not to store or use the photos in any way other than to temporarily process them to guess your age."
Internet lawyer Paul Jacobson notes whatever data Microsoft retains should be anonymous and not an issue from a privacy perspective. He notes these apps have been around for years in various forms. "It all depends on the developers and their intentions. If users are concerned, they should check out terms and conditions and privacy policies before using."
Jacobson adds there is probably no reason to be concerned about possible privacy issues. "Users are still far more exposed ... just using Facebook every day."
Swift Consulting CEO and tech blogger Liron Segev says people's reaction to possible privacy breaches is "a lot of an overreaction" and is based on badly written terms of use. He notes people are concerned because they do not want Microsoft using the pictures, with their ages, in advertising.
Segev adds: "What possible good could Microsoft have to do with everyone's pictures that are already online anyway?" He says if people do not like the fun and optional app, they should not be using it.