Bytes People Solutions' wellness mobile clinic highlight benefits of a healthy workplace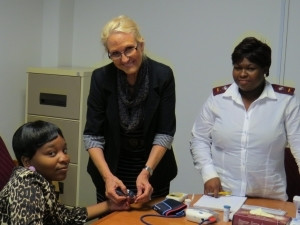 In a move aimed at helping employees to keep wellness top of mind and make healthy choices, Bytes People Solutions has launched a wellness mobile clinic, which visits the companies on a monthly basis.
Wellness initiatives enable companies to successfully involve employees in the creation of a culture of health in the workplace. It also raises awareness of how to prevent and fight chronic diseases like heart disease, diabetes and certain types of cancer.
"We are currently hosting more than 800 learners at our career campus, and we wanted to make it easier for them, and for our employees, to have access to clinic services," says Dr Madelise Grobler, MD of Bytes People Solutions. "Our initial focus is on helping people with disabilities, but the clinic is available to everyone on the career campus."
The mobile unit, staffed by a full-time nurse and doctor, provides patients with basic healthcare services and preventative tests such as glucose and cholesterol screening. People who visited the clinic had the opportunity to consult the medical professionals and learn from them.
"People who need follow-up care, or who are taking chronic medication, will have ongoing access to the mobile clinic every month," says Grobler.
She adds the initiative will make it much easier for both learners and employees to access healthcare, and will play a major role in decreasing absenteeism.
Healthcare costs continue to rise, and many of these costs are driven by preventable or highly manageable chronic diseases. In addition, recent figures released by Statistics SA reveal that absenteeism is costing companies more than R12 billion annually in South Africa. It also has knock-on effects for productivity, staff morale and a company's bottom line.
"Fostering a positive culture of wellness can reduce absenteeism, drive up productivity, and result in a far healthier and happier workplace," says Grobler. "We believe the company has a vital role to play in helping employees and learners to make healthy choices, to improve their knowledge about lifestyle-related illnesses, and to provide them with medication where necessary."