NetFlorist to deliver same-day treats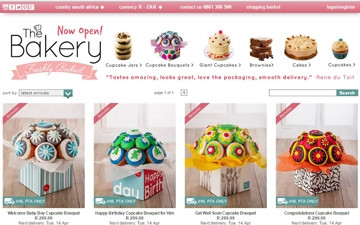 Online flower and gifting service NetFlorist has seen large uptake of its new offering, The Bakery, with 50 to 60 fresh confectionary orders being delivered each day.
Ryan Bacher, MD and founder of the NetFlorist Group, says for now, products from the bakery are delivered on a next-day basis, but the company is a few weeks away from offering a same-day service.
Products from the bakery include personalised cakes, cupcakes, brownies and goods such as "cupcakes in a jar" and "cupcake bouquets". Soon, the range will include doughnuts, muffins and strawberries dipped in chocolate, says Bacher.
In the first month of the bakery unit's operation, last November, 100 units were sold, which increased to 1 000 the next month, says Bacher. He adds the delivery service is only available in Johannesburg and Pretoria but, by June, the service will be offered country-wide.
NetFlorist hired a top confectionary chef to run the kitchen situated in its warehouse. "Everything is done in-house," says Bacher, who explains this allows it to create a preservative-free and "unashamedly high-end product".
"Birthdays are our single biggest occasion throughout the year and confectionary naturally goes with it."
The service is a first for the South African market, says Bacher, noting such an offer is available overseas but is a relatively new category.
"For most e-commerce businesses, delivering fresh is a problem; however, we have been doing that for years with flowers so perishables don't scare us," says Bacher, who feels confectionary was a natural extension of the business.
"Twenty years ago it might have been strange for a florist to be delivering cakes but I think that in today's fast-changing economy, it is not so strange anymore."
Bacher adds the company spent as much time creating packaging for the confectionary offerings as it did creating recipes. "It adds to the whole experience of receiving a gift and, for far too long, confectionary has been delivered in a white baker's box."