Messenger encryption requires continuous opt-in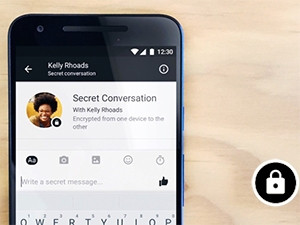 Facebook Messenger now offers end-to-end encryption, but users will have to jump through a series of hoops to access the new security feature, called Secret Conversations.
The feature has to first be turned-on; this requires users to open the Messenger app, go to their profile and scroll down to the option and click it.
Once selected, a message appears that reads: "Your messages are already secure, but secret conversations are encrypted from one device to another. You can choose to make these messages disappear, and you can still report conversations even for a short time after the messages have disappeared."
To send a private message, both users need to have the latest version of the Messenger app on their smartphones and have both turned on the feature.
Then users need to select who they want to securely interact with, press the 'i' icon in the top right-hand corner and scroll down to the secret option. Only when the background colour of the chat turns from blue to black is it a legitimate 'secret conversation'.
The feature does not work on group chats.
The app has more than 900 million users. User growth was driven when the company required Facebook app users to download a separate Messenger app if they wanted to continue seeing and sending messages on the platform, using their smartphones.
In July, Facebook began testing end-to-end encryption on its Messenger application to prevent snooping on digital conversations. The testing was limited to a small number of users. It uses the same technology used by WhatsApp, developed by Open Whisper Systems.
This year, there have been a string of messaging apps which have incorporated similar security features.
End-to-end encryption was already offered on Apple's iMessage platform as well as apps including LINE, Signal, Telegram and Wickr.
Facebook-owned WhatsApp announced in April it would encrypt all conversations end-to-end by default. Later that month, Viber followed WhatsApp's lead and added the same privacy features.
The updates earlier this year arrived amid a heightened international debate over how much access law enforcement should have to digital communications. It followed a high-profile showdown between Apple and the FBI over an encrypted iPhone linked to one of the San Bernardino shooters.